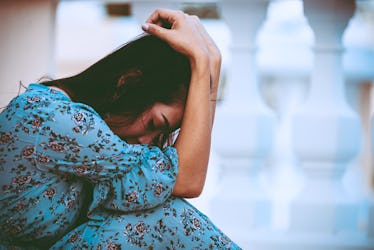 8 Women Explain How To Get Closure When You're Dumped For No Reason
Shutterstock
Being dumped always blows, but being dumped when you thought the relationship was going swimmingly is even worse. If you've found yourself in this position and you're wondering how to get closure after you've been dumped for no reason, fret no more. In a recent Reddit AskWomen thread, ladies discussed how they were able to move on from relationships after they were dumped for no clear reason.
I mean, before we get into this, let me make one thing abundantly clear: It's OK to be upset if you were dumped with no explanation. Yes, there are ways to move on, but I'm in no way trying to discount the fact that what you're going through is legitimately difficult. As someone who's been there firsthand, I know that it's almost impossible not to sit there over-analyzing everything you could have possibly done to make things take a turn for the worse. That's a natural reaction to have.
That being said, if you're over feeling sorry for yourself and you know that you're never going to get the closure you're looking for from the person who dumped you, it could be worth your while to look into the advice of these women. You don't necessarily have to follow their advice step by step, but take their words of wisdom to heart. They've been there.