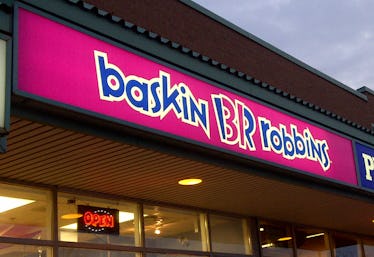 You Can Get A Free Sample Of This Fall-Flavored Cappuccino Blast At Baskin-Robbins
Baskin-Robbins
As much as I love fall, I've been feeling pretty conflicted about enjoying all the steaming hot PSL drinks and Halloween goodies when it's still 80 degrees outside — and patio season is still very much in session. Enter Baskin-Robbins, which is giving you the best of both worlds with a refreshing treat that boasts all your favorite flavors of fall while keeping you cool and energized at your Labor Day BBQ. Here's how to get Baskin-Robbins' free Pumpkin Cheesecake Cappuccino Blast samples, if you're trying to get in on the complimentary sips.
According to a Monday, Aug. 28 press release, customers can enjoy a 3.5-ounce taste of the chain's Pumpkin Cheesecake Cappuccino Blast over Labor Day weekend, per a Baskin-Robbins press release. For reference, 3.5 ounces measures out to about two and a half shot glasses worth of frozen goodness. In other words, you're getting a pretty good-sized free sample when you head to your local Baskin-Robbins on Sunday, Sept. 2 from 3 p.m. until 7 p.m.
Let me start by saying that you're seriously missing out on some ice cream-infused deliciousness if you've yet to try the retailer's Cappuccino Blast. The beverage is basically engineered to let you satisfy your sweet tooth and stay cool while getting your coffee fix handled. Per the press release, it is a "delicious frozen coffee beverage which features a rich combination of coffee from 100% Arabica coffee beans, milk and ice cream blended with ice and topped with whipped cream and a cinnamon garnish."
According to the release, this caffeinated concoction can be customized to include any of the brand's ice cream flavors, including seasonal varieties like, you guessed it, Pumpkin Cheesecake.
Rather than simply jumping on the PSL craze that's currently sweeping the nation, Baskin-Robbins is putting its own twist on the mouthwatering combo by adding ginger snap cookies and cream cheese. Per the press release, the frozen coffee is mixed with "pumpkin and cheesecake-flavored ice creams with ginger snap cookie pieces and a cinnamon cream cheese-flavored swirl." Oh, and it's all topped with whipped cream and a cinnamon garnish. Basically, it sounds like pumpkin heaven in a glass, and something tells me you'll be in great spirits and ready to resume your Labor Day BBQ feasting after your complimentary sample.
If 3.5 ounces of dreamy sips just aren't enough, you're in luck, because Baskin-Robbins is offering customers any small Cappuccino Blast for just $2.99 throughout September and October. It's the perfect way to indulge your sweet tooth, no sugar comas included.
However, if you're *gasp* not a fan of pumpkin, there are other delicious options in the pipeworks. Baskin-Robbins' flavor for the month of September is called Chocolate del Fuego, and it's inspired by a traditional Mexican chocolate. Order some in a Cappuccino Blast to enjoy "chocolate ice cream with hints of cinnamon and chili, churned with liquid chocolate chips and a spicy tres leches swirl," per the release, or try it out in a cup, cone, milkshake, or Waffle Bowl Sundae. If you're really obsessed with the sweet and spicy blend, you can even get the flavor in one of Baskin-Robbins' customizable ice cream cakes. You know, because you deserve to treat yourself.
Plus, fan-favorite Quarterback Crunch, which happens to be celebrating its 40th birthday this fall, is back to serve all the rice crunchies, caramel, and chocolate goodness. There are so many delicious options, and your treat game is about to get so lit when the seasons change.
With fall right around the corner, you can't go wrong choosing any of these flavors to say, "Summer, it's been real." Any one of these treats will be the perfect way to help you transition to sweater weather.