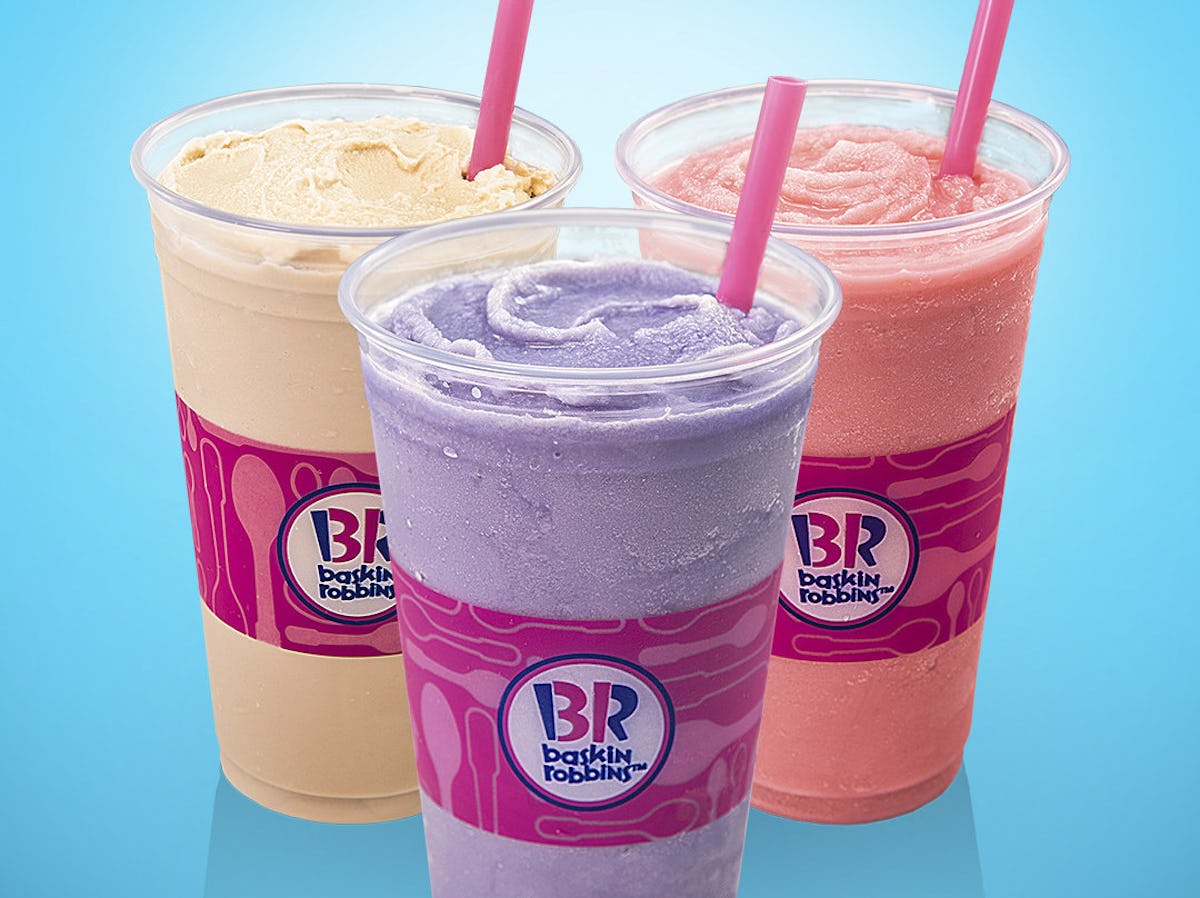 Baskin-Robbins Is Giving Away Free Freezes This Weekend To Help You Cool Down
Is it just me, or has summer 2018 been unusually hot so far? I'm not complaining (I'll take the heat over freezing temperatures any day), but dang, it's been brutal. Whenever I step outside, I instantly crave something cold. Thankfully, Baskin-Robbins understands what I'm going through, because the company will soon be offering free frozen drink samples. If you also feel overheated every time the sun comes out, I'll tell you how to get a free Baskin-Robbins Freeze this weekend. It'll definitely help you cool down when the weather gets rough.
The process of getting a complimentary Freeze sample from Baskin-Robbins is so easy that you won't even break a sweat. In order to do so, visit your local Baskin-Robbins between 3 p.m. and 7 p.m. on Sunday, Aug. 5. (Only participating stores are giving away the treat, so call your go-to spot ahead of time.)
When you get there, choose which Freeze flavor you'd like to sample. You can try Baskin-Robbins' Sprite and Rainbow Sherbet Freeze, or the Coke and Vanilla Ice Cream Freeze. If you need a quick boost, you can also try the company's new energy drink options, which include the Monster Energy or NOS Energy and Wild 'n Reckless Sherbet Freeze. Elite Daily reached out to Baskin-Robbins to see how big the sample sizes will be, but has not heard back by the time of publication.
Regardless of the sample size, I think these Freezes will certainly cool you down in the summer heat. If you love the flavor you tried, why not treat yourself to a larger cup? Plus, a dessert-like drink that gives you energy is hard to pass up.
Carol Austin, Vice President of Marketing for Baskin-Robbins, talked about the company's new flavors and samples in a press release. She said,
At Baskin-Robbins, we're always looking to provide our guests with new and unique ways to experience our frozen treats. Our Freeze sampling event gives our guests an opportunity to sample our new Monster Energy or NOS and Wild 'n Reckless Sherbet Freeze which will provide them with a boost of energy as they try to stay cool in the summer heat.
If you're interested in trying Baskin-Robbins' new energy drink Freezes, keep in mind that they'll only be available until Aug. 31. Try them (and order them) while you can.
So, what exactly is a Freeze, anyway? It sounds delicious, but some of you might not know how it's made. Believe it or not, Freezes aren't your typical milkshakes. Instead, they're made with a bottled or canned beverage of your choice mixed with any hard ice cream flavor. In other words, you can create your very own Freeze that's made with your favorite ice cream and drink.
The options are truly endless, which could be overwhelming for indecisive customers (like myself).
If you try a free Freeze and decide that you're in the mood for ice cream instead, Baskin-Robbins has your back. The company recently revealed its August Flavor of the Month, and it sounds delicious. The selection is called Caramel Cream Puff, and it's inspired by a French dessert called "Croquembouche," according to a press release. The flavor consists of salted caramel ice cream mixed with pastry cream-flavored mousse ice cream, and it's packed with a "burnt caramel swirl." There are also pastry pieces and burnt sugar crystals in the mix, and I need to try it ASAP.
In order to try Caramel Cream Puff ice cream and a complimentary Freeze sample, stop by Baskin-Robbins on Aug. 5 from 3 p.m. to 7 p.m. Stay cool!