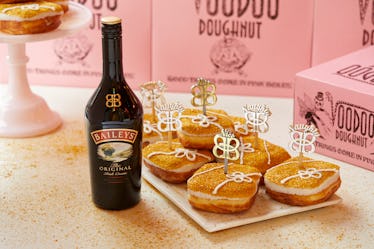 You Can Get A Free Baileys VooDoo Doughnut Inspired By Your Favorite Holiday Sip
Courtesy Of Baileys
No matter where I go, New York City will always hold a very special place in my heart, but sometimes, I wish I lived on the West Coast. While the weather is better and the mountains are bigger, the main appeal (for me, at least) is VooDoo Doughnut. The chain is famous for whipping up some hella unique flavors, and most recently, they came out with a Baileys Irish Cream Doughnut. And in honor of the holiday season, VooDoo is giving them out for free. So if you're interested, here's how to get a free Baileys VooDoo Doughnut, read on. I have so much FOMO right now.
'Tis the season to be boozy, as some say, and IMO, there's nothing better than combining the flavor of my favorite booze with my favorite sweet treat of all time: doughnuts. Thankfully, VooDoo Doughnut (which has two Portland-based shops and one doughnut cart in Portland), is bringing holiday cheer to literally anyone and everyone, by teaming up with Baileys Irish Cream Liquor to create The Baileys Naughty or Nice Doughnut (you can choose between "Naughty" or "Nice" depending how good you've been this year... no judgement, I promise). Anyway, according to the press release, they'll be available at select VooDoo locations between Dec. 13 and Dec 16, so make sure to get there while you can. I that know I — for one — am incredibly jealous.
The best part of it all, however, is that the famed doughnut shop will be giving out complimentary Baileys Naughty or Nice Doughnuts at participating locations on Thursday, Dec. 13. According to the press release, select locations in Portland, Oregon; Eugene, Oregon; Denver, Colorado; and Austin, Texas will be doling them out for free between 12 p.m. and 4 p.m. local time, while supplies last. So, get there quick, because you won't have much time to waste.
You won't have to worry about driving home from VooDoo after eating one (or a few) Baileys Naughty or Nice Doughnuts, though, because they're totally non-alcoholic. Yep — according to the press release, each treat is booze-free, and features VooDoo's classic raised yeast doughnut, which is topped with vanilla frosting, and a shimmering layer of gold sprinkles. Then, last but not least, it's filled with a rich, Baileys-inspired Bavarian cream. If you don't get the chance to go on Dec. 13 to snag one for free, you can still buy one for cheap — only $3.50 — at select VooDoo locations. So, definitely make sure to get 'em while they're hot. You won't want to miss out on this glorious opportunity.
I don't know about you, but I'm always down to try a Baileys-inspired dessert. Earlier this year in Oct. 2018, I was able to try OddFellows Ice Cream Co.'s Baileys Everyday Sundae, and it was absolutely amazing. The base featured Baileys-infused espresso soft serve, which was generously drizzled in Baileys-infused caramel sauce. It was all topped off with coffee soil, as well as chocolate wafer pearls, and let me tell you — it was to die for.
If this tantalizing treat didn't completely convince you to move out West, I don't know what will. VooDoo's existence (and — most importantly — their latest and greatest Baileys Naughty or Nice Doughnut) has totally sold me, so my bags are packed, and my U-Haul is waiting. West Coast, here I come.