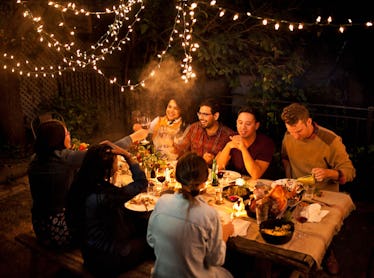 9 Flirty Pickup Lines To Use At Friendsgiving If You Wanna Be More Than Friends
Friendsgiving is one of the most wonderful times a year. You get all the pros of Thanksgiving food without the stress that family often brings to the table. And, you can also try to flirt with your crush at Friendsgiving. Since flirting with a crush in your friend group can be difficult, making a first move might take some forethought. So, if you've been wondering how to flirt at Friendsgiving, you've come to the right place.
For starters, it's important to consider how your crush feels about you. I'm not saying that you have to be a mind-reader, but the way you flirt with them can rely on getting a sense of what they are thinking. For instance, if it seems like both of you are crushing on each other, you could take a chance to be a little bit more flirty than usual. If you haven't indicated that you're into them before, it might help to try a gentler pickup-line. Getting a sense of how they feel can make sure your flirting lands with them in a way that is appreciated (and doesn't make them feel uncomfortable).
Whether your pickup line lands or not, I hope that you have a lovely time with your friends this year. And that hopefully, you leave this annual gathering as more than just friends with your crush.