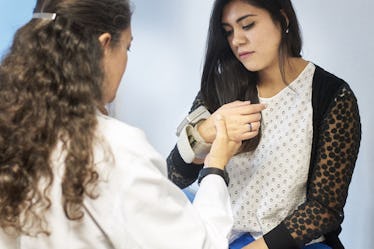 Here's How To Find A Primary Care Doctor If You Legit Have No Idea Where To Start
The first time I tried to find a primary care doctor on my own in Washington D.C., I was shocked by the wait times for appointments. After calling several doctors' offices, each one told me it would take six weeks or so to be seen for a new patient appointment. Perhaps this situation presents itself differently in other cities, but from what I've gathered, this is, unfortunately, pretty standard. If you're wondering how to find a primary care doctor, there are several little factors like this that you might not realize you'll have to deal with until you're knee-deep in your search.
BTW, if going to the doctor at all makes you feel a little anxious, girl, I totally get it. For me, even if I feel like I'm in perfect health, there's something about going to the doctor's office that feels like I'm taking a huge test. Plus, I'm always a little nervous that I might not turn out to be as healthy as I think I am.
But finding a regular doctor who can be a great resource for any medical questions you might have is important. If you're a little unsure about how to start, don't worry — I got you. With a little bit of preparation and some light googling, you'll be sure to find the right doctor for your needs.