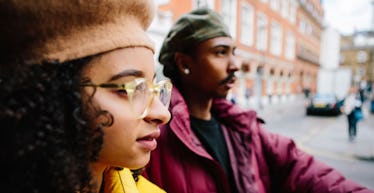 3 Ways To Feel More Confident When Dealing With Conflict With Your Partner
If you're in a relationship, you will face disagreements with your partner sooner or later. It's pretty inevitable: You're not the same person, therefore you won't approach situations in the same way, and that can lead to arguments over how to handle those disagreements. These instances may lead you to question how to feel confident disagreeing with your significant other, in case you feel confused whether or not your feelings over the matter is valid.
You also may feel scared that vocalizing your concerns could lead your partner to getting even more upset with you, or worse, leaving you. These fears are normal, especially in your first couple of relationships. But once you realize how important it is to stand up for yourself and your beliefs, you'll be far less scared of the response from your partner. Plus, as you become more confident in your self-worth and your worth as a partner, you'll feel more comfortable voicing your opinions.
I spoke with Dr. Danielle Forshee, licensed clinical social worker, on ways to feel more confident when you do disagree with your partner. With these steps, you'll feel more armed and prepared next time you have a fight or disagreement with your significant other.