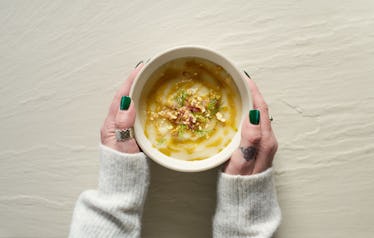 Here's How To Cope With The Holidays When You're Recovering From An Eating Disorder
The holidays already tend to be a stressful time of year for many people, but it can be especially challenging if you're recovering from an eating disorder. There's a strong emphasis on celebration through food, not to mention the inevitable triggers that can present themselves at family gatherings, like unsolicited comments about how much food you put on your buffet plate. It can feel like you're trying to stay afloat in a sea of overwhelming uncertainty, but the truth is, there are ways to cope with the holidays when you're in eating disorder recovery. The first thing you need to know is this: You're a lot stronger than you think, and you're not going to drown in that sea of uncertainty — no matter how much it feels like you might.
While having an eating disorder can, at times, feel incredibly isolating, the National Association of Anorexia Nervosa and Associated Disorders states that about 30 million people of all ages and genders have an eating disorder in the U.S alone. At least 2.8 percent of the population will experience binge eating disorder, making it the most common form of the condition, as per the National Eating Disorders Association, followed by bulimia nervosa (1.5 percent) and anorexia nervosa (0.9 percent).
Moreover, eating disorders do not discriminate; in other words, they have "no 'look,'" says Crystal Savoy, MS, RD, LDN, a non-diet dietitian at Real Life Women's Health. "We often see an emaciated white female portrayed in the media," she tells Elite Daily in an email, "when the reality is, eating disorders affect people of all sizes, ethnicities, and genders."
That being said, no matter who you are, if you're choosing recovery — especially during the tricky time that is the holiday season — be proud of yourself. You're accomplishing an exceptionally hard feat, and I, for one, am tremendously proud of you.
But here's where things can get really challenging: It can be difficult for friends, family, and loved ones who have never struggled with an eating disorder to understand the severity of the condition, or why mashed potatoes, baked ziti, decadent desserts, and the like can provoke such intense and deep-seated anxiety for someone who's recovering from such a condition. "It can be hard for a friend or family member to know what is the 'right' thing to say, and most people have no education or training in eating disorders, so they don't understand the complexity and severity of the disorder," Savoy explains. "That's why it's important to reach out to your closest friends and family to let them know how you feel, even if they can't completely understand it."
Of course, that is certainly easier said than done, especially when friends and family, themselves, may unknowingly be immersed in diet culture. Still, according to Savoy, having a good support system in place is key when you're recovering from an eating disorder. Below, she and a few other experts break down how you can approach your loved ones about what you're going through, and how you can navigate the holiday season overall while you're in recovery.
Keep in mind, if you're already working with a professional to treat your eating disorder, it's best to discuss with them the right plan for you. Otherwise, here are a few suggestions for getting through the holidays while you're recovering from an eating disorder.