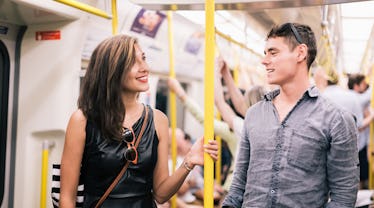 Here's How To Approach Someone IRL Without Losing Your Nerve
I am what you'd call a "closeted introvert." When people meet me, I seem outgoing and confident because I laugh and make conversation. But I'm secretly panicking inside. I'm the embodiment of "fake it 'til you make it" in just about any social situation. So, the idea of hitting someone up who I'm attracted to IRL is enough to send me into an anxiety spiral. But here's the thing: I'm probably missing out on meeting a lot of really amazing people who could potentially change my life. That's why knowing how to approach someone without losing your nerve can be so helpful. When you think about the opportunities you could be missing by not approaching someone who draws your attention, not speaking up is kind of a huge bummer. It's also something I'm ready and eager to get over.
If that sounds familiar, then I have good news: It's totally possible to get over the fear of approaching new peeps. To help overcome our shared anxiety, I enlisted the help of Laurel House, celebrity dating and relationship coach and host of the Man Whisperer podcast, for her advice on how to get over the nerves and just go for it. Honestly, her advice makes so much sense. Here is how she recommends mentally preparing to approach someone in real life.