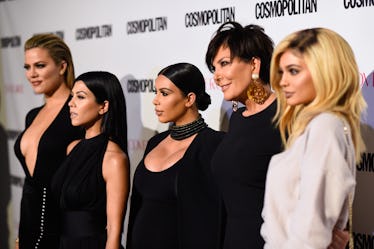 Here's How The Kardashians Celebrate Christmas, Because You Love How Extra They Are
Frazer Harrison/Getty Images Entertainment/Getty Images
When it comes to the Kardashians, celebrations are rarely small or subtle. This is a family that goes all out for every possible occasion. Even when there isn't much to celebrate, the Kardashians frequently go above and beyond to make sure their loved ones know they're thinking of them. Given all the major and minor celebrations they have throughout the year, it's no surprise that plenty of folks are wondering how the Kardashians celebrate Christmas. Well, they do it like they do everything: big.
While the family has been relatively mum about what they'll be doing for the holidays this year, they have revealed that Kim will be hosting a party on Christmas Eve. This is usually something her mom Kris Jenner does, but Kim is taking over this year.
"This year is the first year ever that Kanye and I are having our Christmas Eve party at our house. We're taking it over from my mom," Kim told E! News on Tuesday, Dec. 5. "She's still throwing it, but it's at our house."
In addition to hosting the party, Kim is going to try to wrangle everyone for a family photo.
"My goal is that I'm going to try to get a theme going of what the family should wear, tell them to come 30 minutes early. With a photographer, do a quick shot with everyone outside and maybe do like a New Year's card. I might have to really just say, 'Guys, we have one shot. I'm planning this. I'm giving you a time, a place, and no exceptions. Be there or you're not allowed into the party,'" Kim explained to E! News.
So, that pretty much covers Christmas Eve. But what about Christmas Day and New Year's Eve? I guess we'll just have to look back to 2017 to see what's on the agenda.
Back in December 2017, Kim shared all her family's Christmas traditions in a post to her app. Christmas Day apparently includes matching pajamas and opening presents at Kourtney's house. So, maybe 2018 will follow the same lineup of events.
Here's how Kim described the family's Christmas Day traditions in 2017:
On Christmas morning, we all wear matching pajamas when we open presents at Kourtney's house. Each year, we get different pajamas. Over the years, it's become a tradition that each family member has their own wrapping paper so that you know who the gift is from – it's a fun representation of their style. In previous years, Kanye [West] and I went with matte black wrapping paper with a black ribbon. It's fun to give gifts that personalized touch.
Kourtney also shared her traditions for Christmas Day and they're pretty much in line with what Kim said:
Christmas is one of my favorite holidays and we always go overboard in decorating the whole house. The kids love this time of year, so we have a tree in each of their bedrooms and also a bunch of big trees throughout the house. I usually have my sisters and the entire family over on Christmas morning, so I pull out all my holiday linens and plates to set the table.
As for the family's New Year's Eve plans, there isn't much info out there for what's on the schedule this year. But last year, in 2017, Kim stayed in with her family and had a nice dinner.
"Ringing in the New Year with friends and family," Kim shared on her app in December 2017. "Celebrating the New Year by having a game night and staying in, cooking."
Khloé, on the other hand, spent the night out with beau Tristan Thompson. So, they rang in the first day of 2018 in each other's arms:
I suppose that could mean New Year's Eve is a toss up depending on what individual members of the family want to do. Whatever they've got on the schedule for this year, I'm sure it's going to be amazing!