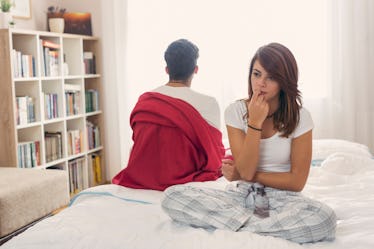 5 Ways Relationship Fights Change Once You Move In Together, According To Experts
Moving in with your SO can be really exciting. For one thing, it's a sign that your relationship is moving forward, and now you get to truly share your life — and your space — with the person you love. There's a lot to look forward to when cohabitating with your partner, like finding your rhythm, sharing plenty of private moments, and even just waking up together in a bed that isn't just yours or theirs, but ours. However, it can also represent new challenges for you as a couple, including how relationship fights change once you move in together. Believe it or not, the way you argue (and of course, what you argue about) has the potential to change once you start living together.
While that might sound a little scary or intimidating, it doesn't have to be. When you share your life so fully with someone new, learning to argue is part of the learning process. It's actually a great chance to grow your bond and get closer, especially if you have an idea of how exactly your dynamic will change. That way, you aren't caught off guard, and may have less of a chance of getting defensive To help understand how arguments change once you live together, I reached out to NYC relationship expert and love coach Susan Winter for her insights. Here is what she said you should expect to change about how you fight when you move in together, and what to do about it.