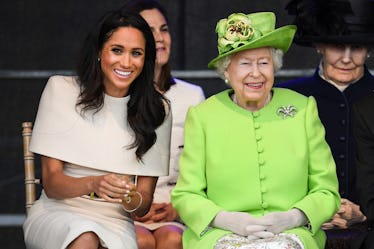 Meghan Markle's Relationship With The Queen Is Changing In The Best Way & It's No Surprise
Jeff J Mitchell/Getty Images Entertainment/Getty Images
Meghan Markle, Duchess of Sussex, has officially been part of the royal family for just over a month. And already, she's wooing everyone around her. According to a new report from Entertainment Tonight, Meghan is really bonding with the royal family, especially the Queen. A source close to the royal family explained to ET how Meghan Markle and the Queen's relationship is changing, and you know what? You'll be more than surprised when you read all the details.
According to ET's source, Meghan has been doing and learning all she can to ensure she's an asset to the royal family:
Meghan has been anxious to jump in and learn as much as possible. She's ready to work as much as she can on as many projects as they will allow.
And that has reportedly impressed the Queen, as well as Prince Charles. Elite Daily reached out to Kensington Palace regarding this new report, but has not heard back at the time of publication.
According to ET's source, Meghan is set to spend "a great deal of time in the coming months" representing the royal family at various events for different causes. She'll also reportedly be working with young people, which is said to be a strong passion of hers.
All this comes just weeks after Meghan made her first official appearance alongside the Queen without her husband, Harry. Although there were a few royal protocol mishaps, Meghan and the Queen seemed to have gotten along just fine. They even had a hearty laugh during their outing in Cheshire.
In recent days, Meghan and the Queen were spotted at the Young Leader Awards reception, a star-studded event at Buckingham Palace. According to ET's royal source, Meghan and the Queen were totally "at ease" with each other:
Last night she was completely at ease with the queen. She has developed an increasingly close, warm relationship with both the queen and her father-in-law, Prince Charles. She wants to please them and is doing whatever she can to educate herself to make sure she doesn't put a foot wrong.
The royal family is also said to be rather "impressed" by Megan's drive and genuine desire to do all she can to engage in charitable projects. That's a quality that Princess Diana had, so naturally, it's a desirable one in Meghan as well!
So, basically, Meghan is charming just about everyone. But she's also putting in some hard work to make sure she knows what's expected of her. And that isn't surprising since Meghan has worked hard for everything she's ever earned. Now, it looks like she's earning the royal family's respect, which is wonderful.
In addition to dishing about Meghan's relationship with the Queen, ET's source also said that the new Duchess has a slew of causes that she's excited to get involved with. Among them are gender equality and human rights. Here's what the source had to say about causes close to Meghan's heart:
Gender equality, girls education, gay rights and human rights — which were the focus of her work as a UN advocate and a representative for the One World Foundation — will be themes to be prominently featured in her future work.
Those are all great and noble causes. I'm sure Meghan's going to be doing really wonderful and important work for years to come.
All told, it seems like Meghan is really settling into her life as a royal. She seems totally comfortable and already very much in command of her new role as Duchess. Plus, it's great to see the family taking such a warm liking to her.