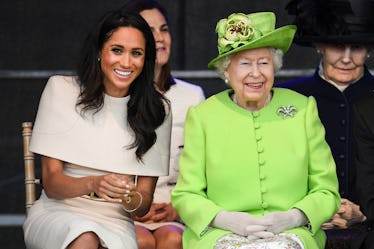 Meghan Markle Couldn't Keep A Big Royal Rule Straight On Her Solo Outing With The Queen
Jeff J Mitchell/Getty Images Entertainment/Getty Images
Keeping track of royal protocol is no easy feat as Meghan Markle, Duchess of Sussex, is now learning. The newly minted duchess had her first solo outing with the Queen on Thursday, June 14, and it proved to be a confusing one at times! This video of Meghan Markle asking the Queen about a royal rule shows just how tricky following royal protocol can be. No worries, though, because Meghan handled it like a pro.
The confusion began while Meghan and the Queen were out and about in Chester, U.K. where they were scheduled to appear at two important events. Their itinerary for the day included going to Chester's Storyhouse Theatre, which is a highly-regarded library, cinema, and theater. Meghan and the Queen were on hand to officially open the theater. Additionally, the royal pair attended the opening of Mersey Gateway Bridge in Cheshire, England, which sits approximately 160 miles north of London.
At some point during their outing, Meghan got a little confused over who should enter the car first: herself or the Queen. Of course, I have no clue if there's an actual rule about who gets into the car first when traveling with the Queen, but with royal rules dictating every little thing down to what board games you're allowed to play (no more Monopoly for you, Meghan) can you blame her for being paranoid that there is one?
Royal protocol is understandably confusing, especially to someone who didn't grow up with all the trappings of royal life. So, I'm sure most people can relate to Meghan in this instance.
Luckily for Meghan, she had several people on hand to guide her. Plus, she's self-confident and resourceful enough to ask questions when she's unsure of something. And that's exactly what she did.
Here's a peek at Meghan and the Queen discussing who should get into their car first:
In the video, Meghan appears to ask the Queen, "who goes first?"
While many might have expected the Queen to be miffed at the question, she handled it with a lot of care and simply motioned for Meghan to head into the car first. So sweet!
I love that Meghan has support from the Queen during these outings. It's great to see how the royals have welcomed her with open arms.
Unfortunately for Meghan, though, that wasn't the only mishap of the day. During a different part of their trip, she was also super confused about which side of the car to get into. She had to navigate that one all by herself because the Queen was already inside the car when she was still trying to figure out what to do!
Here's a look at that moment. Notice how she dashes quickly around to the other side of the car only to return back to the original side in the end?
Poor Meghan. But it's all completely understandable. I mean, obviously, she thought that there's no way the Queen scoots over when she gets in a car. Like, there's nothing royal about scooting! Little did she know...
Meghan also expressed uncertainty about royal protocol just a few days ago during the Trooping the Colour event, which is a yearly celebration of the monarch's birthday. While standing on the balcony of Buckingham Palace with her husband Prince Harry, Duke of Sussex, Meghan appeared to ask him when to curtsy. He, of course, told her when and all went smoothly.
But eagle-eyed fans of the royal family caught on to the moment and a video of it went viral. Here's a look at that video:
"Do it?" Meghan appears to say. After a moment, Prince Harry replies, "Yes."
Fans of the royal family were quick to comment on the video, even expressing some words of encouragement for Meghan:
Don't you worry, Duchess Meghan, you still got a long way to go and you're gonna do great.
Aw, too cute! It'll definitely take a while for Meghan to get everything down pat, but she'll get there eventually! And it looks like the world will be right there with her, whether she makes mistakes or not!
It'll all come in time, Meghan! Don't sweat it.