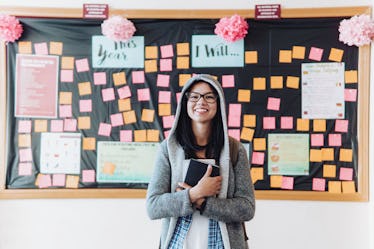 Here's How Long It's Taking 7 Women To Pay Off Their Student Loan Debt
Paff / Stocksy
Admit it: The experience of repaying student loans is pretty upsetting. Getting the balance to zero might even seem impossible, especially to those with overwhelming amounts of student debt — but that's not true. I'm not saying that it's easy, either, but with a little patience, and the right mindset and application, you can pay off those loans. But don't just take my word for it. Here's how long it takes to pay off student loan debt for seven different women, since everyone's situation is different.
According to The Balance, the standard repayment plan puts borrowers on a path to repay their student loans in 10 years — but every situation is different. In reality, according to the outlet, it takes the average college graduate with a bachelor's degree 21 years to wipe their student loan debt. The amount of time it takes to pay off student loans depends on several factors, from the amount of student loan debt to personal income. While some people have secured incomes or inheritances that allowed them to knock their loans down in just a few years, others are taking the repayment process day-by-day, paying what they can, when they can.
And while some of these women have finished paying their dues and are ready to hit the world debt-free, others are still dealing with how to make their monthly payments — so in short, no matter where you are i the process, don't beat yourself up, because you're not alone. With that, let's look at what the repayment process has been like for a few women, shall we?