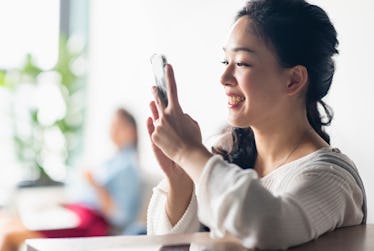 Here's How Your SO Will Text If They're In Love, Based On Their Sign
Leren Lu/Photodisc/Getty Images
When you really like someone you're dating, it can be tempting to try and decode every glance, encounter, or word the two of you exchange. The good news is, you don't have to go full Da Vinci Code to gain insight into how they feel. Their texting behaviors — particularly when you consider how each zodiac sign texts when they're in love — can be a great indicator of where their heart's at if you don't quite feel comfortable asking just yet.
Some texting cues are pretty universal. If someone from Tinder only texts you "wyd?" on Saturday nights, then chances are, they're probably looking for a physical relationship. If someone you've been dating casually is leaving you on read after being all up in your DMs, your connection could be fizzling out (unless they've told you they'll be busy all day and won't be able to get back to you). But when someone's in love, their texting style can begin to shift in subtle (and not so subtle) ways.
Some zodiac signs express their love through more sentimental texts, while others show the depth of their feelings by taking a particular interest in every aspect of your life. The one thing they all have in common is that they make it crystal clear you're a priority to them. Here's how each zodiac sign texts when they're in love.