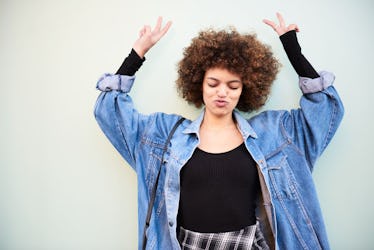 An Expert Reveals How Each Stage Of Your Period Affects Your Mood, So Take Notes
Have you ever looked up the definition of "period" or "menstruation"? The dictionary sums up the physical aspects of the monthly visitor like a textbook: a flow of blood from the lining of a woman's uterus, can last up to seven days, a sign of puberty, etc. This is all accurate, sure, but it doesn't really summarize the other overarching details, like the symptoms you can experience, or how each stage of your period affects your mood. There's so much more to your menstrual cycle than a simple dictionary definition can touch on, but let the record show that your period is just as emotional as it is physical, and the effects can often drone on throughout the entire month, not just around the time you bleed.
Let's start with the basics: Your menstrual cycle abides by your hormones — specifically, estrogen, progesterone, and testosterone. According to Ann Mullen, director of health education at Cycle Technologies, you can think of the four phases of your menstrual cycle as a dance of sorts, in which the hypothalamus region of the brain — aka the part of your noggin that controls your autonomic nervous system, body temperature, thirst, hunger, sleep, emotional activity, and the like — choreographs movements throughout the month.
Sometimes the performance is smooth, even graceful. Other times, the presentation is sloppy, and you might feel a little off-kilter in the process. While it's all normal, Mullen explains that the reason why some women experience certain symptoms, while others grapple with another set, is not entirely understood. What experts do know for a fact, she tells Elite Daily, is that these fluctuating symptoms, including those associated with mood, are definitely linked to hormone levels.
So if you aren't exactly sure what the four phases of your menstrual cycle even are, let alone how they influence the way you feel emotionally on a daily basis, here's everything you need to know, according to an expert in the space.