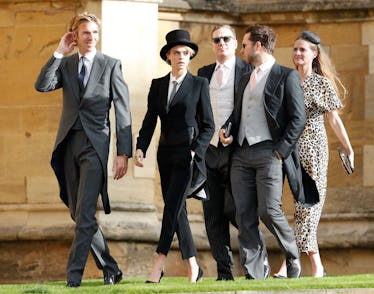 Here's How Cara Delevingne Got Princess Eugenie's Approval For Her Surprising Wedding Suit
WPA Pool/Getty Images Entertainment/Getty Images
When Cara Delevingne strolled up to Windsor Castle on the day of Princess Eugenie and Jack Brooksbank's October wedding, she strolled up as the best dressed out of all of the guests. Homegirl literally wore a tuxedo with tails and a top hat, and I have never felt so seen by a royal wedding guest. If you're wondering how Cara Delevingne got Princess Eugenie's approval to rock such an eye-catching look for the second royal wedding of the year, it's quite simple. All she had to do was ask.
According to People, Delevingne told Grazia magazine that getting the green light for her wedding tuxedo was just a matter of texting her pal, Eugenie. "Eugenie has been a friend of mine since I was a kid," Delevingne told the outlet, "and I've always wanted to wear tails." She went on, "I texted her, as I wasn't sure about it, and she was like, 'Of course, I expected nothing else from you!'" And thus, the iconic look was born. And don't you doubt for a second that this look was iconic. When was the last time you saw a woman wear a full-blown tuxedo to a royal wedding where Queen Elizabeth would be in attendance?!
While this look was absolutely everything, Delevingne doesn't want people calling her brave for having worn it. Which is fair, considering this is the year 2018 and women shouldn't have to wear dresses if they don't want to.
"I found it interesting how many people came up to me and said, 'You're so brave to wear that!'" Delevingne said. "I was like, really? I feel way more comfortable like this."
Catch me outside wearing this for literally every single special occasion for the foreseeable future.
Hold my hat.
A mood if I ever did see one.
One more time for the folks in the back.
I'm sweating. And so was the internet on the day of the wedding, Oct. 12.
The consensus was that, other than Princess Eugenie, Delevingne won the royal wedding. And how perfect was it that all she had to do to break with royal tradition was to text her friend? We stan a princess who doesn't care about royal tradition (too much)!!
I mean, just look at this queen (princess).
The royal family's Instagram account posted the above photos of Eugenie and Jack on their wedding day looking as happy as ever. "Thank you to everyone for watching and joining in with the #RoyalWedding celebrations- congratulations once again to the happy couple!" the Instagram post said.
I honestly, truly, deeply need to know what Queen Elizabeth's reaction to Cara Delevingne's tuxedo was. Did she gasp? Was that gasp out of delight or shock? Does she suddenly want to wear tuxedos to all royal events now? Petition to make the new royal dress code for everyone be a suit or tuxedo of some kind. You know Meghan and Kate would rock. That. Look.
Anyway, this is where I leave you: