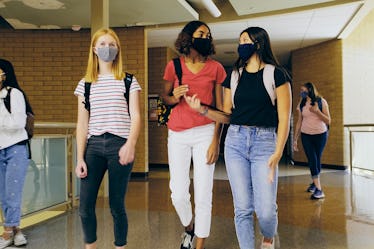 "Every Day Is A Worry": 19 High Schoolers' Real Concerns About School & Coronavirus
RichLegg/E+/Getty Images
The coronavirus pandemic may be ongoing, but school must go on. As of August 2020, it's been about five months since students were last in school, as many towns and cities moved to remote learning to prevent the spread of COVID-19 at the end of the 2019-2020 school year. But now, as back-to-school season starts, a national debate has begun over whether students should go back to in-person learning or not. But while lawmakers, teachers, and parents debate the safety of reopening schools, some voices have been left out — what do the students think? Elite Daily asked high school students how they really feel about reopening schools during coronavirus, and here's what 19 teens had to say.
The coronavirus is believed to be transmitted primarily through respiratory droplets and close person-to-person contact, and the Centers for Disease Control and Prevention (CDC) advises maintaining a social distance of 6 feet and wearing a mask to prevent spreading the virus. But even with social distancing guidelines and mask-wearing policies, bringing large groups of students and teachers together in enclosed spaces is risky. According to The Chronicle of Higher Education, only 2.5% of colleges across the nation plan to fully reopen for in-person learning as of Aug. 10. But while colleges get to make their own choices, the decision to reopen K-12 schools rests with local and state governments, and reopenings haven't always gone seamlessly. In early August, North Paulding High School in Paulding County, Georgia, went viral after a photo of a crowded hallway of students without masks circulated on social media. Brian Otott, the superintendent of Paulding County School District, said in a letter to the community that the school was following Georgia Department of Public Health guidelines.
The benefits and risks of reopening are hotly debated by experts: Some infectious disease experts have cautioned against reopening schools due to increased risk of community spread of the virus, while advocates for reopening schools cite benefits including developing social and emotional skills, building a safe environment for learning, fulfilling nutritional needs, facilitating physical activity, and much more. As of Aug. 19, the American Academy of Pediatrics advocates for in-person learning, while simultaneously noting that areas with high case rates must move to virtual learning for safety reasons. "The pediatric community agrees with the CDC that, in a perfect scenario, we would all like schools to be open," Dr. Chad Sanborn, M.D., a pediatric infectious disease specialist with Kidz Medical Services of south Florida, tells Elite Daily. "The main risk to reopening schools would be that the children, teachers, and staff could contract COVID-19 because of exposure in an indoor setting." The CDC has also assembled a list of FAQs for school administrators looking to reopen schools safely.
But not all students are convinced. Many shared concerns about immunocompromised family members, fear of catching the virus, and distrust that safety guidelines will be enforced. Here's what these 19 high schoolers from around the country have to say about reopening schools.
These interviews have been edited for length and clarity.