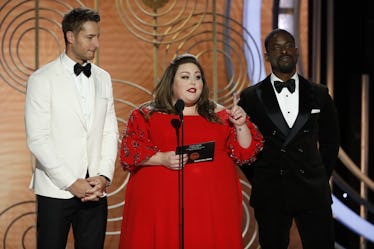 Here's Everyone The Cast Of 'This Is Us' Is Dating IRL, So Grab Your Tissues
Handout/Getty Images Entertainment/Getty Images
Do you watch This Is Us with a box of tissues every week? That's truly the only appropriate viewing companion (unless you have a tiny kitten or all of the snacks). As much sadness as the show brings me, it also brings me an intense joy, and so I'm happy to hear about the cast members' personal joy. As might be obvious, I'm pretty excited to know who everyone the cast of This Is Us is dating, and I'm excited to share this info with you.
In real life, their love lives aren't quite as intertwined as they are on the show (I mean, why wouldn't the Pearsons date each other's spouse's cousins? And ex's best friends?). But they're still fascinating, and I like to imagine Mandy Moore goes on dates with the song Moonshadow playing quietly in the background every. single. time. For people who provide us with heart-warmth and tear-jerks every week, I can only imagine their own love lives are filled with intense passion and probably a few words of wisdom expertly delivered at about minute 38. And maybe some kittens, but tiny ones.
Read on find out who everyone in the Pearson and Pearson-adjacent clan are dating IRL.