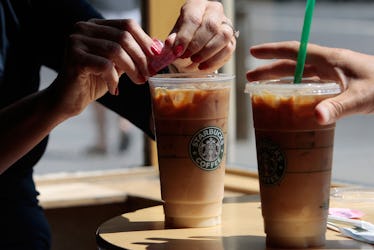 Here Are The Strongest Summer Starbucks Drinks That'll Cool You Off & Wake You Up
Chris Hondros/Getty Images News/Getty Images
Between late-night campfires and early morning beach trips, summer is full of ups and downs. That's why finding the strongest summer Starbucks drinks is so important. When you think about it, summertime coffee fixes are basically essential — and thankfully, there are tons of options to choose from. If you're anything like me, you always reach for a chilled pick-me-up when the temps rise. Well, rest assured that there are a bunch of cold caffeinated drinks that you can enjoy when the sun is shining bright.
If you're a frequent Starbucks customer, you might've noticed that the company brought back three blended drinks for summer 2019. Those include the S'mores Frappuccino, the Mocha Cookie Crumble Frappuccino, and the Caramel Ribbon Crunch Frappuccino. Sure, frozen drinks are perfect if you're craving a sweet summertime sip — but sometimes, the caffeine found inside of those Frappuccinos doesn't cut it. For example, a grande S'mores Frappuccino boasts about 75 milligrams of caffeine, which is far less than an iced coffee (which has about 165 milligrams of caffeine in a grande). See what I mean?
In case you're wondering which strong Starbucks drinks you can sip on this summer, I put together a list of beverages for you. Some of 'em are old and some of 'em are new, but they're all cold and full of caffeine.