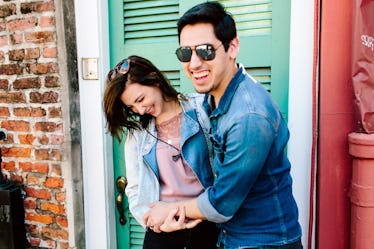 4 Best Zodiac Signs To Flirt With, So Break Out Your Best Game
How strong is your flirting game? Do you tend to feel awkward and stumble over your words when you try talking to someone you're attracted to? Or does it seem like you have natural chemistry with just about everyone, so talking to them and flirting is no big deal? If you consider yourself to be in the latter group, chances are you're also one of the best zodiac signs to flirt with. These are the folks who just have an effortless charisma, and actually enjoy talking to new people and getting to know them; those who naturally draw people in as if by magnets into their orbit, and leave them charmed, intrigued, and wanting more.
If that's not you, chances are you know someone who has this talent for flirting, and watching an expert in the wooing arts work their effortless magic is pretty impressive actually. But how do they do it? As it turns out, they may be getting a little extra help from the stars, because they happen to be born under a sign that just has a natural talent for seduction. So, whether you're a great flirt or just want to find someone to flirt with, these are the signs who are usually best at it.