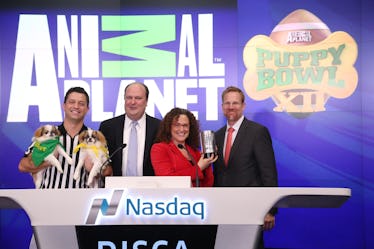 Here Are The Animal Rescues You Can Donate To After The Puppy Bowl Puts You In The Giving Mood
Rob Kim/Getty Images Entertainment/Getty Images
It's almost time for the big game! The Super Bowl LIII will take place on Sunday, Feb. 3, 2019, with New England Patriots facing off against the Los Angeles Rams. More importantly, though, the 15th annual Puppy Bowl is also airing on Feb. 3. The most adorable part of Super Bowl Sunday will air a few hours before the big game, featuring adoptable pooches from shelters across North America doing their own version of America's Favorite Game, and is it ever cute. If you're moved by the pup-tivities but are disappointed to find out that the cuties on screen have already found their fur-ever homes, here are six animal rescues to donate to after the Puppy Bowl to help out next year's contestants.
But first, a little more about the 2019 Puppy Bowl: The Puppy Bowl is an annual event put on by Animal Planet that gathers a bunch of puppies to play inside a model football stadium, complete with commentary, uniforms, and lots of puppy kisses. (There's even a kitten halftime show.) This year's Puppy Bowl will feature a lineup of 93 puppies from 51 shelters in the mainland United States, Costa Rica, and Puerto Rico, per USA Today, and the event will be overseen by longtime "ruffaree," Dan Schachner.
If you're looking for news and pregame analysis on the Puppy Bowl, you'll want to get up to speed with Puppy Bowl XV: Around the Bowl & Spot Center, which premiered on Animal Planet in January. In it, dog hosts Chuck and Larry discuss who they think will win this year (Team Ruff or Team Fluff), 2019's breakout star, and whether hating the mailman is just a pup stereotype.
Though its easy to get caught up in Puppy Bowl shenanigans, it's important remember that even if the puppies on your screen have found their fur-moms and fur-dads, there are still plenty of fur-babies out there who need your help (and taking care of puppies until they can relocate to their forever homes costs money and resources). Here are six animal rescues you can donate to after watching this year's Puppy Bowl.