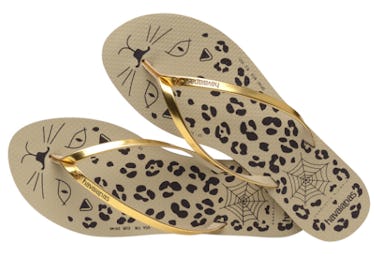 These New Havaianas x Charlotte Olympia Flip Flops Will Make You Proud To Be A Cat Lady
When two much-loved brands collaborate on a new product, you know it's going to be good. Especially if those two much-loved brands complement one another so perfectly that's it's almost too good to be true. Cue the newest Havaianas x Charlotte Olympia collaboration, which we were graced with today in the form of the most summer-perfect flip flops you've ever laid eyes on. If you're a cat mom or cat enthusiast then you're going to love the collaboration even more because their inspiration in not-so-subtly feline. Meow!
I've been wearing Havaianas flip flops since before I can remember. Whether I was by the pool or at the beach, they were always in my summer bag. They're affordable, comfy, and come in an array of pattern offerings, so my mom was all about them when my sister and I were growing up. We went through flip flops like boxes of cereal as kids (they would always get swept away by the ocean) so I'd estimate I've owned at least 15 of their styles. Havaianas have now become somewhat iconic in their own right within beachside communities and beyond for their ubiquitousness and aside from Rainbows and Old Navy styles, I'd say they dominate the flip flop game. Literally any style or color you want you'll find on their site.
Charlotte Olympia, on the other hand, is a much more niche brand. A British label known for their luxury shoe and accessories offerings, they're prices are decidedly higher. Remember those clutches that looked like your favorite books that below up a handful of years ago? Charlotte Olympia is the brand to thank. And what they lack in affordability they more than make up for in absurd cuteness. Take one look at the offerings on their site and you'll see they favor the ultra adorable and the cleverly opulent. My current offering of theirs is this mini velvet bag—it's literally my dream fall and winter clutch.
As you might have guessed by now, this new collaboration between the two brands is truly unique and one-of-a-kind. Created in honor of Charlotte Olympia's 10th anniversary, the new flip flop style features an iconic Charlotte Olympia design on the classic Havaiana footwear style. The actual footbed of the shoe, which is a gold-ish nude, is spotted in a cheetah print. At the toe, the print fades into a sketched out cat face complete with ears and whiskers, while the heel is stamped with a delicate spider web. The straps of the shoe are metallic gold and feature tiny gold pins to match. As described in a press release, "the sandal brings you the best of both brands—the comfort of Havaianas and distinctive style of Charlotte Olympia....The fun, fashion-forward style is an ode to the brands' collaboration back in 2015, which was a fan-favorite."
The style would be perfect for your next warm weather getaway, especially if you're headed somewhere with jungly terrain where your shoes might be able to meet their literal match. But really, show me vacation spot where gold accessories don't reign supreme. For a day at the beach, I'd pair the flip flops with a black one-piece swimsuit, black cat eye sunglasses, and a cover up to tie around my waist. For a day spent sightseeing, they'd pair great with black cutoff shorts, a breezy white button-ups, and some gold hoop earrings. However you choose to style them, they're guaranteed to look ace.
If you're into the style you can shop it now online a www.us.havaianas.com. They'll run you $70, which for a Charlotte Olympia collaboration is an absolute steal. Flip flop perfection.