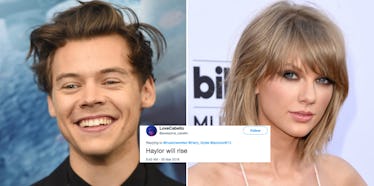 Harry Styles Made A Taylor Swift Joke During His Concert & Twitter Freaked Out
Jamie McCarthy/Jason Merritt/Getty Images/Twitter
Harry Styles is on the European leg of his first-ever solo world tour, and he's been playing to pretty packed audiences at every location. The singer made a stop in Copenhagen, Denmark, on March 19, and while there, a very lucky fan was sung "Happy Birthday" by Styles and the crowd. In a video a concertgoer took of the moment, Styles is joking around with the crowd when he asks the fan her age. She says 22, and then what happened next slayed the audience and Twitter alike. Harry Styles' joke about Taylor Swift's song "22" was a hilarious and unexpected moment from Styles, who usually dodges commenting on his ex whenever he can.
When Styles learned the fan's age, he responded with, "Twenty-two. She's 22, OK.'" And then came the Swift moment. Styles said, "I don't know about …" and then cut himself off before continuing the line we all know the words to. (We can all pretend we don't know the lyrics to "22," but we do. We do.) Yup, Harry Styles literally referenced a Taylor Swift song during one of his concerts. He then led the whole stadium as they sang "Happy Birthday" to the fan, of course.
Forget about the fans freaking out in the audience. Twitter freaked out all on its own.
People who still ship Styles and Swift (they call them "Haylor") are joking that Haylor is back on the rise.
This isn't the first time Harry Styles has quoted Swift's "22." On his 22nd birthday in 2016, he tweeted the song lyrics himself.
On Feb. 1, 2016, he tweeted the song's most memorable line, "I don't know about you, but I'm feeling 22." Look, I'm not a Taylor Swift fan and even I can admit "22" is a bop. The chorus is freaking infectious. I already know writing this article is going to make the song play on a loop in my head for the next three days minimum. Swift just made an annoyingly catchy tune, one that Styles himself clearly can't deny he loves. Despite the Swift reference at this concert on March 18, though, Styles usually avoids talking about Taylor Swift like the damn plague.
Like during his interview with BBC1 Radio on May 12, 2017, for example. Host Nick Grimshaw asked Styles if the song "Two Ghosts" is about Taylor Swift, and Styles had an... interesting reaction.
And by "interesting reaction," I mean he looked straight-up miserable when he had to answer a question about her. Some of the lyrics in "Two Ghosts" made fans believe Styles was singing about Swift. The beginning of the song goes,
Same lips red, same eyes blue. Same white shirt, couple more tattoos. But it's not you, and it's not me. Tastes so sweet, looks so real. Sounds like something that I used to feel. But I can't touch what I see. We're not who we used to be, we're not who we used to be. We're just two ghosts standing in the place of you and me. Trying to remember how it feels to have a heartbeat.
Styles looked visibly annoyed (in a funny way) when Grimshaw asked him if the song was about Swift. He looked to his manager for help, but it was clear he'd have to answer. This is what he shot back with when Grimshaw asked, "What's the song about?"
I mean, I think it's pretty like self-explanatory. Help me, Jeffry... I think, you know, it's about sometimes things change and you can be, you know, do all the same things and sometimes it's just different. You know?
Grimshaw then started to play the song, but first he said, "OK, here we go. The one about Taylor Swift," to which Styles responded, "Ahhhhh, no!" Sorry, Harry. Based on this interview and based on Twitter's reaction to you quoting Swift at your concert, it seems like there will always be people waiting for Haylor to rise again.