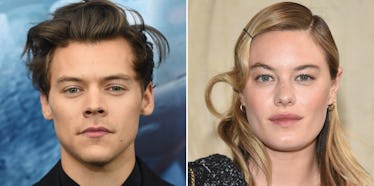 Harry Styles & Camille Row Have Reportedly Split After One Year Of Dating & I Have Feelings
Jamie McCarthy/Pascal Le Segretain/Getty Images
Just stop you're crying — Harry Styles is reportedly single again. The singer just finished his first solo world tour (that really seemed to last a solid eight years), and just two weeks after the tour concluded, Styles and his reported girlfriend, Victoria's Secret model Camille Rowe, have called it quits. Yup, Harry Styles and Camille Rowe have reportedly broken up. Elite Daily reached out to Styles and Rowe's teams for comment on the reported breakup, but did not hear back by the time of publication. The pair were first rumored to be dating in the summer of 2017, but only a few photos of the two together have popped up since then. Whatever kind of relationship they had over the last year, they intentionally kept it under the radar.
According to The Sun, Styles and Rowe recently called it quits after being together for about a year. Before calling their reported romance off, Rowe was seen at Styles' concert in Paris in March (she was reportedly sitting with his mother, so that's legit), and Styles reportedly brought her to meet his family around December of 2017. The two never confirmed their rumored relationship. Instead, fans had to take little hints thrown out here and there over the last year that might have revealed their romance.
In an interview with BBC Radio 1 while he was promoting Dunkirk, Harry Styles was hooked up to a heart monitor to see what topics/photos would make his heart race.
One of the only things to make the singer's heart rate jump was a photo of Rowe. INTERESTING. Styles played it cool, however, saying, "I don't know her. I'm sure she's wonderful. I'm sure she's a wonderful person." Maybe he didn't know her at the time and just thought she was attractive, making his heart race. Or maybe they were already dating and Styles was being low-key trolled by the BBC Radio 1's Nick Grimshaw (who is actually his close pal). Considering Styles looked to people off-camera after this moment and said, "I hate everything about you," I'm going to put my money on trolling.
The two were reportedly introduced to each other by mutual friend Alexa Chung. You can see one of the few photos of the two together fans snapped during their reported relationship floating around on Twitter.
The former One Directioner and Rowe were reportedly together throughout his entire tour. Styles' first solo tour recently came to an end after a successful round of 89 shows. The "Sign of the Times" singer posted a thank you to his fans on Instagram just after the tour ended to commemorate the end of the era. His post read,
Kissy. Thank you for coming out to see us, it has been a pleasure playing for you all. I'm off to write some more music and I hope I'll be seeing you again very soon. Thank you to my band, the crew, and all of you for making this tour so wonderful. Treat people with kindness. Goodbye for now. I love you all. H
Whatever the truth of Styles and Rowe's relationship is, Styles stans are happy their favorite dude is single again.
Yikes. Fans really were not about this reported relationship. Guess they're just happy they stand a chance with the former One Direction hottie, huh?