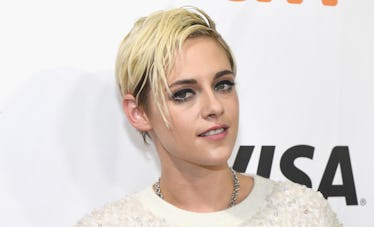 Kristen Stewart Is Starring In The LGBTQ Holiday Rom-Com You've Been Waiting For
Sonia Recchia/Getty Images
Romantic comedies were all the rage this year thanks to the success of hits like Crazy Rich Asians, To All the Boys I've Loved Before, and Love, Simon, and now Kristen Stewart is bringing you your next rom-com obsession. Happiest Season stars Kristen Stewart in the LGBTQ rom-com that you have been waiting for, and it will also be a holiday movie to boot.
So far, Kristen Stewart is the only confirmed cast member of Happiest Season, but that is enough for it to already sound like the can't-miss holiday movie of next year. The movie will be set at an annual holiday party where a young woman is planning to propose to her girlfriend. Except she soon discovers a major obstacle to her proposal plan: her girlfriend has not yet come out to her conservative parents.
Although Kristen Stewart has starred in a long list of hit movies, she has not really done many romantic comedies. Her one major rom-com before this is 2009's Adventureland, in which she co-starred with Jesse Eisenberg. And of course, Stewart had her breakthrough in the lead role of Bella Swan in the Twilight film franchise, which is heavy on the romance but not so much on the comedy. Happiest Year will also be the first major motion picture in which Stewart will play an LGBTQ character since coming out as a member of the LGBTQ community in recent years. Stewart referred to herself as "so gay" in her opening monologue when she hosted Saturday Night Live in 2017, and then later clarified that she identifies as bisexual.
Clea DuVall will direct Happiest Season, marking her second time directing a film after her debut behind the camera of the 2016 critical darling The Intervention. It is being co-written by DuVall and her writing partner Mary Holland. DuVall is openly gay and has starred in several cult classic LGBTQ films such as But I'm a Cheerleader, so it's safe to say that the same-sex romance at the center of Happiest Season is in very good hands.
Happiest Season is also a big deal because it marks the the second LGBTQ romantic comedy to be made by a major Hollywood studio. Love, Simon broke ground as the first gay teen romantic comedy movie to be made by a major movie studio when it was released under 20th Century Fox's banner earlier this year. Happiest Season is being produced by TriStar Pictures, which is a division of Sony Pictures.
And although hundreds of Christmas romance movies are released each year, especially by networks like Lifetime, Hallmark, and Freeform, LGBTQ romances have been notably absent from just about every single one of them. There have been a couple smaller releases over the past decade that bring queer romance to a holiday setting (2000's Holiday Heart and 2009's Make the Yuletide Gay), but Happiest Season will be the first major motion picture to be a holiday movie centered on an LGBTQ couple... unless you count Carol as a Christmas movie?
Happiest Season is currently in pre-production, so there's no release date yet, but judging by the subject matter of the film you can probably expect it to be released next holiday season.