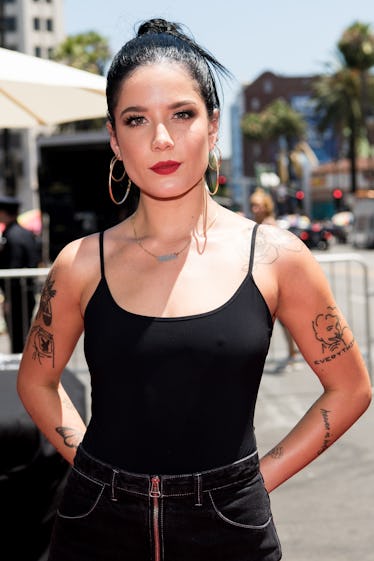 Halsey Casually Announced She Has A Cameo In 'A Star Is Born,' So Buying My Ticket ASAP
Emma McIntyre/Getty Images Entertainment/Getty Images
Lady Gaga and Bradley Cooper are starring in A Star Is Born coming out this fall, and it's one of the season's most anticipated films after getting glowing reviews following its premiere at the Venice Film Festival. The cast is rather star-studded as it is, with Dave Chappelle making a rare appearance in a dramatic role, but another singer is apparently joining the ranks of Gaga in a small cameo in the film: Halsey. Yup, Halsey's cameo in A Star Is Born was just casually announced by the singer herself, who says the experience was "an all time life highlight."
"I guess now is a good time to finally tell you guys that I have a little cameo in A Star Is Born!" Halsey tweeted on Sept. 5. "Thank you so so much to Gaga and Bradley for including me. It was an honor to watch both of your talent and dedication on set. an all time life highlight for me for sure." She won't be playing a fictional character like Gaga and Cooper, though. She'll be playing herself! She tweeted responding to a fan,
I play myself for a very small moment! Which is insane because it means Gaga and Bradley saw me worthy of representing a piece of the current state of music in this film forever. They could have picked any artist. It was so humbling and unreal.
Um, yeah, if Lady Gaga picked me out of a crowd of people and said "You. You're the one," I'd cry for the rest of eternity.
Halsey is clearly moved by being chosen for the cameo in the film.
In case you're sitting here like, "What's A Star Is Born?" Allow me to educate you. The most well known A Star Is Born for people today is the one released in 1976 starring Barbra Streisand and Kris Kristofferson, but it has had other previous iterations, so this new one is basically a remake of a remake. It tells the story of an iconic fictional male performer (played by Cooper in the remake) who has passed his glory days of music but is still beloved by a lot of fans, so he continues to tour. He meets an up-and-coming singer (in this case, played by Gaga) and they fall in love, then the woman's career skyrockets once her music is released. She ends up completely eclipsing the man's fame, aka a star has been born.
Initial reviews of A Star Is Born following its premiere at the Venice Film Festival say Cooper's version of the classic story (he directed the film while also starring in it) is the best iteration the story has ever received, and Gaga's performance is rumored to be Oscar-worthy, as well as Cooper's. The music of Streisand and Kristofferson's version was fitting of the time, and this new version has created its own new music just like the 1976 version. So don't expect to be seeing Lady Gaga croon out Barbra Streisand bops — this is going to be all new music, so it makes sense that the film recruited a popular woman in music like Halsey to be a representative of the times.
A Star Is Born comes out in theaters on Oct. 5, 2018.