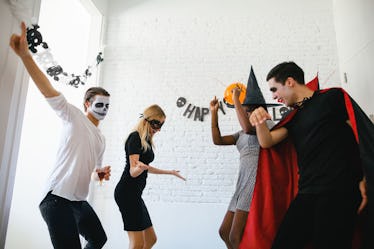 The Best Halloween Things To Do In NYC This Year If You Want Some Tricks & Treats
New York City never sleeps, not even on Halloween — so if you find yourself in The Big Apple during the spookiest time of the year, you'll never run out of things to do. Whether you want to hit up a Halloween-themed bar, bring a box of festive snacks to Central Park for an afternoon picnic, chase the thrills at a haunted house, or all of the above, you're in for a trick (and some treats). You can spend the day with your best friends or go solo. Whatever you decide, you're sure to have a blast — because NYC sure knows how to do Halloween just right. Keep reading if you're looking for the most spook-tactular Halloween 2018 things to do in NYC.
People from all over the world flock to NYC throughout the year. With an endless amount of restaurants, events, festivals, and boutiques, it's definitely the place to be if you're looking to experience something new. There's an activity for everyone, from the early riser to the night owl. You can take it easy and check out a fall market, or get your spook on in a speakeasy downtown. You really won't have any trouble finding things to do this Halloween, but here's a list if you're in need of some inspiration.