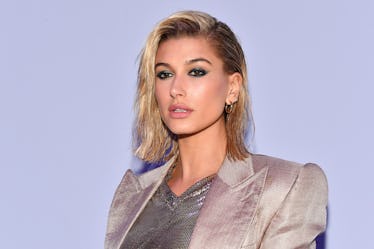 Hailey Baldwin's Net Worth Is Much Higher Than You Think, Prepare To Be Jealous
Dia Dipasupil/Getty Images Entertainment/Getty Images
Hailey Baldwin is just 21-years-old, but her career has skyrocketed in the past few years. The model and actress has become a sought-after face for big-name brands and she's appeared in campaigns for Guess, H&M, Adidas, Topshop, Sonia Rykiel, and Ralph Lauren — to name a few. She's graced the covers of magazines like Marie Claire and Elle Greece, and she's walked the runway for Dolce & Gabbana, Elie Saab, Tory Burch, and more. Oh — she also co-hosts a TV show. For a rising star who appears to be just getting started, Hailey Baldwin's net worth might just make you a tad bit jealous.
Hailey's estimated net worth is reportedly in the $3 million dollar range, according to sites like WhatNetWorth and Mazul. Compared to the highest-paid model of the moment — Kendall Jenner, who was reported to make $22 million last year — that might seem on the low side. But Hailey is still coming up in the industry. Forbes reports Bella Hadid took home around $6 million in 2017, if you need further perspective.
Hailey has been keeping plenty busy recently, and not just because of her modeling work. Baldwin's been hosting TBS' Drop the Mic alongside Method Man, which was recently renewed for a second season. She'll also make a cameo in the upcoming Ocean's 8 movie. This is all in addition to her massive social media presence — she's got over 11 million Instagram followers watching her every post.
Just don't call Hailey Baldwin another "Insta model." Hailey spoke to Elle UK in 2017 about the unfortunate label, explaining how it discounts all the hard work she's put into taking her career to where it is today. "It's not fair, because I work my ass off to make what I have and to prove that this is what I want to do. I want to be a model," Hailey remarked. "I don't want to be an 'Insta model,' nor am I an 'Insta model.' I don't think I would be where I am if people didn't see something in me." She went on:
I put all my modeling [photos] on my Instagram because I'm showing it to people. It's not about me getting paid to model for things on Instagram — of course, sometimes we do get paid for things we do for Instagram and Twitter — but there is a line of calling someone an 'Insta model' or an 'Insta star.
Hailey's recognizable last name also comes with the scrutiny of that whole being-a-child-of-a-celebrity-thing. Her uncle may be Alec Baldwin and her father may be Stephen Baldwin (The Usual Suspects, Bio-Dome), but she's her own person. "I want to do everything on my own without my name being a factor," she told Grazia magazine. "I try to keep myself separate from it."
But she also recognizes where she came from. "Kids that already have a famous background are just following in their families' footsteps. My dad [Stephen Baldwin] and all of his brothers have done this. This is my family business," she added.
And just because Hailey calls famously photographed faces Kendall Jenner and Gigi and Bella Hadid her close pals, does not mean modeling was a career path she initially set her sights on. "It's not something I always wanted to do," she told Yahoo Style back in 2015. "It was something that just started happening naturally which I think is better because then you're in no way forced into it at all.'"
Well, even if she didn't plan on it, it looks like the modeling thing is definitely working out for her.