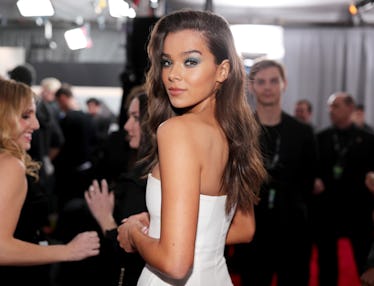 Hailee Steinfeld Shut It Down On The Grammys Red Carpet & You Have To See Her Shoes
Christopher Polk/Getty Images Entertainment/Getty Images
For the 60th Grammys, Hailee Steinfield's message was definitely clear. Cue, "These boots were made for walking." And that's just what they did when they glistened across our TV screen. Hailee Steinfield's 2018 Grammys look was enticing as hell and anyone who is all for making a statement, one step at a time, would swoon over her boots. The color and length of these boots are so perfect, and she wore them so effortlessly.
Let's first mention how fly she looked in all white. Yes, you read that all white part correctly. This was such a smart color for her to wear because those shoes spoke louder than any other shade she could have tried pairing them with. (Many celebs also stepped out in all white to stand in solidarity with the Time's Up movement on the red carpet.) Now, if you were too mesmerized by how angelic she looked in this particular outfit, you missed the best part of all. Major kudos for the all white outfit, girl. Her purple boots were absolutely everything, and they were kind of hard to miss as she approached Ryan Seacrest on the red carpet.
So far, they were the most vibrant pair of shoes to bless the 60th Grammys, and I am hectically searching the internet to find out where I can find a pair for myself. Are they designer or a pair of shoes we just didn't notice until she rocked them at the Grammys? Either way, those knee-high metallic boots were slaying like it was no one's business.
The slit along with those knee-high boots is so, so classy. Seriously, what shade of purple would you call that? It almost gives off a Space Jam vibe in the most fashionable way possible. One thing is for sure — the colorful boots took us by surprise and stand out even more because of the sleek, all-white look she has leading to those out of this world pair of beauties.
The look is from designer Alexandre Vauthier.
Twitter wasn't ready for this epic fashion statement.
Steinfield was basically glowing, and that green eye shadow was super fierce. The all white, purple boots, and the green eye shadow together were a combination that, in my opinion, worked out so, so well for Steinfield. If anyone mentioned those three colors to me to incorporate in an outfit for a star studded event, I would run for the hills. Steinfield, on the other hand, triumphantly owned the red carpet. Not everyone was standing by her choice of purple boots, though.
Some people were on the fence about Hailee's look.
Mostly though, people could not handle how much those purple boots stood out. No one was ready for this look, but I was so here for how unique and memorable those babies were. The Grammys are all about fashion and Steinfield's boots were a perfect example of leaving your mark on that camera frenzied red carpet. They were out of this world and I wouldn't be surprised if there is a sudden spike in the sales of knee-high purple metallic boots by early next week. The swoon is too real, and I need a pair ASAP.
Get your debit cards ready, because any shoe retailer would be smart to release a pair of boots like this. On sale would be nice though, because money doesn't grow on trees, you know? Also, where can we get that green eye shadow, girl? It sure was giving off some subtle Poison Ivy feels.
Aside from the boots that were making such a stunning statement, Hailee announced again that she will be going on tour this summer. The Pitch Perfect star will hit the road with Charlie Puth and sing in over a couple of dozen shows. Huge fans are probably already aware, but they will be covering quite a few states.