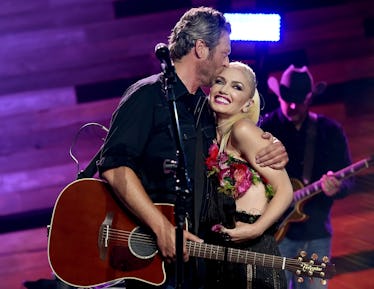 Gwen Stefani & Blake Shelton's Body Language Reveals Their Love Is Strong & Steady
Kevin Winter/Getty Images Entertainment/Getty Images
I love a celebrity odd couple, especially if it's one that seems like it may go the distance. One of my favorites has to be country music star Blake Shelton and ska queen Gwen Stefani, who, despite coming from polar opposite ends of the music spectrum, seem to have found real love with one another. One look at Gwen Stefani and Blake Shelton's body language is enough to make you believe in love, and that opposites really do attract.
A little back story about the couple: They first met back in 2014 when Gwen was added to the cast of judges on season seven of The Voice. (Blake had been a judge from the beginning.) The two seemed to develop a great friendship, but they were both still married at the time — Gwen to Bush singer Gavin Rossdale and Blake to country artist Miranda Lambert. But both of them would be single and ready to mingle by the end of the following year. Blake and Miranda announced the end of their four-year marriage in July 2015. Two months later, Gwen followed suit, announcing that she and Gavin were splitting after 13 years of marriage. (If you're wondering, rumor is Gavin cheated with the nanny.)
It wasn't long after that rumors about Gwen and Blake began circulating, especially after they were spotted holding hands two months later on Halloween. They confirmed the relationship shortly after in November and have been together and going strong ever since — or at least as far as we know. That's why I reached out to body language experts to get a peek behind the curtain and see if everything really is as golden it seems for this couple. Here is what they see.