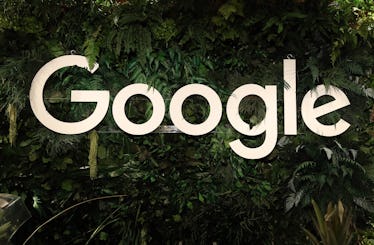 Google Images Just Debuted A New Feature That Will Make Your Next DIY Project So Much Easier
Sean Gallup/Getty Images News/Getty Images
Google is my saving grace, and the search platform is getting a major upgrade that's going to change the way you consume information, as well as how you find it. Whenever I don't know something, the obvious answer is to "Google it." But what about when it comes to images? Sure, you can reverse image search in hopes of finding what you're looking for, but now pictures in Google Images will allow you to learn more about what's actually in each photo. Alas, Google Images' new Lens feature will make your next DIY project so much easier. It's a whole new way to see what you search. Here's how it works.
On Thursday, Oct. 25, Google announced it is rolling out a helpful new feature: Lens in Google Images. So, what is it? At its core, Lens in Google Images gives you a new way to explore the world around you. For example, if you are searching on Google Images for a piece of furniture, decor, or maybe you come across an outfit that you absolutely love, the photo will tell you more about what's in each picture.
What does it all mean? Google relies on artificial intelligence to make identification technology work. Lens finds the specific things within a photo that it thinks you may want to learn more about. All you have to do is tap on the blue dots for more information. Each dot is placed on top of an item or product, so you can easily identify which one you'd like to know more about.
Or, you can "draw" around the item or object you want to know more about. Google Images will pull up helpful and relevant information about the object like images, videos, and web pages, according to Google. The dots, which identify products, will be updated to include more objects and images as time goes on, according to Google.
You know when you are trying to come up with the right keywords to type in to find a certain product but you just can't? Not to worry, because Lens in Google Images will make the process much easier for you. If you're dying to know where that end table is from or where you can pick up the same (or similar) pair of boots from a blogger's outfit, Google Images can help you do that. Trying to build a backyard garden or other DIY project? Lens is going to make it so much easier for you to get it done.
Lens in Google Images also works to help you learn more about travel landmarks, too, like hours of operation, facts about the landmark, and ratings. It can also help you find instructions on how to recreate a certain celebrity hairstyle, or where to buy a particular wallpaper in a room, according to Google. You guys, this is totally going to change the way I search and find information. There's really nothing Lens in Google Images can't do.
The new feature isn't available for everyone just yet. Google will start by rolling out Lens in Google Images to mobile web users in the United States and will expand to other countries soon. The new photo search feature will be available to desktop users in the months to come, according to Google.
I spent all of the last summer renovating my house. I'm talking ripping out carpet, refinishing the walls, converting a closet into a bathroom — the whole shebang. It was a totally exhausting process, since my friends and I took on a bulk of the work ourselves. When I wasn't busy working on the house, I spent the rest of my free time perusing Pinterest for the perfect pieces.
I totally could've benefitted from Lens in Google Images to help me decorate and get the job done. My house is still a work in progress, so no doubt I'll be using Lens in Google Images to help me put the finishing touches on my space.