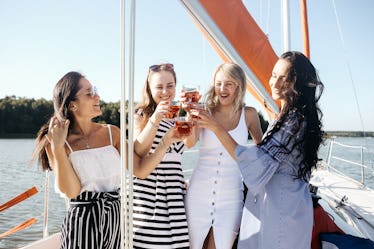 10 Perks Of Booking A Disney Cruise With Your Mickey Mouse Club Crew
Shutterstock
Disney cruises are fun, but planning a Disney cruise with your best Mickey Mouse Club crew can be unforgettable. There's no squad you'd rather take on the high seas with, because going on a Disney cruise with your friends has extra perks you never knew you needed.
Since it is a Disney cruise, you can already expect extra magic in everything you do. It starts with the Mickey Mouse details in the decorations, the adorable characters walking around the boat, and the Disney-worthy entertainment at night. Let's not forget Disney is the place to be for foodies everywhere, so you'll want to take advantage of the buffets and delicious four-course meals. Plus, there is a top-notch spa on board that you can visit every single day, and be treated like the princess you are.
If you take all of that into consideration, having your whole squad by your side for the journey makes it that much more enjoyable and memorable. It's actually these 10 perks that will make you want to consider a cruise for your next friend group vacay. All the reasons to go are listed below — now you just need to pick a destination and get ready to set sail.