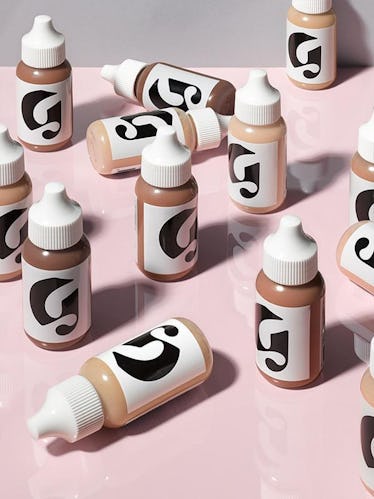 Glossier's Perfecting Skin Tint Is About To Get An All-New Formula — & Way More Inclusive
I've been a diehard fan of Glossier ever since I tried out their Boy Brow eyebrow tint and Generation G lipsticks. Every single product I've tried from the brand has been excellent, with the exception of one: their Perfecting Skin Tint. The brand's uber lightweight and breathable version of foundation, it claims to even out discoloration and leave your face looking toned, smooth and dewy without having the appearance of caked on coverage. "What won't it do?" reads the products description on Glossier's website. "Hide your freckles, spackle your pores, or erase any other evidence that you are, in fact, a real human being."
Sounds amazing, right? I tried it and as someone with acne scarring, regular breakouts, and a serious red undertone, I felt like the product barely did anything to even out my skin tone. Did it feel good on my face? Yes. Did I think it visibly made it look better? Not really.
Evidently, I wasn't alone in being underwhelmed with the skin tint. The brand just announced via a customer service email that due to customer feedback they'll be updating the product in a variety of ways. Reddit user SS1215 shared the email on the MakeupAddiction forum, which reads:
"Thanks so much for purchasing Perfecting Skin Tint! It's one of the four products that started Glossier (and our skin first philosophy). We work to create innovative and prestige-quality formulas, and, in some cases, that means revisiting the formula of a product in our current lineup. Thanks to extremely helpful feedback from our community, we updated the skin tint formula to improve overall performance (while keeping all of the best parts from the original). You'll still get the dewy, sheer coverage you know and love, but with smoother application, an updated pigment treatment, and more."
Amazing! Gotta love a brand that's constantly seeking to improve on their current offerings and listening to their customers. The email finishes off by saying, "We realize that if you'd known skin tint would be changing, you might have waited to make your purchase. To help, we'd love to cover the cost of a new skin tint with the updated formula." That's right, if you've ordered Perfecting Skin Tint within the last 30 days Glossier will send you a promo code that will get you a bottle of the new formula completely gratis. Now that's customer service!
Allure reached out to Glossier for more information on the new formula and promotional deal, to which the brand responded, "We're offering anyone who bought the original formula in the last 30 days the chance to try the new Perfecting Skin Tint on us via a promo code sent to their email. Our goal was to fix some of the issues we faced with our previous formula without compromising the look and effect of toned, smooth, dewy skin. The new formula is the same sheer and breathable one you know and love — just with some improvements."
The changes will include "an updated pigment treatment that prevents the shade from shifting over time, improved film-formers that help create a soft, hydrating veil atop skin, the addition of cork oak for a breathable barrier that works to prevent water loss, and an updated blend of oils that are rich in omega fatty acids," according to Allure.
Smiling yet? Get ready to grin. Glossier will also be releasing Perfecting Skin Tint in a wider range of shades by the end of 2018. Currently, five shades are available. "Inclusivity is one of our core values at Glossier, and we want everyone to experience our products. We're currently making more Perfecting Skin Tint shades and plan to launch them within the next year," the brand revealed to Allure. It's about time!