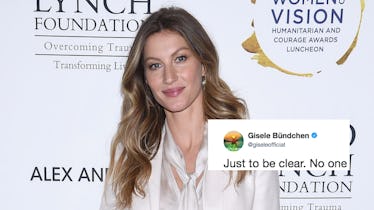 Gisele Bündchen Clapped Back At Haters Who Twisted Her Super Bowl Comments
Dimitrios Kambouris/Getty Images Entertainment/Getty Images, Twitter
Another day, another drama-filled Twitter debate. In case you missed it, the Philadelphia Eagles played against the New England Patriots and won the Super Bowl LII on Sunday, Feb. 4. It was a pretty exciting time, considering the Eagles were the underdog team (and the Patriots have already won five Super Bowls). While it was a tremendous win for the Eagles, members of the Patriots took it pretty hard, including quarterback Tom Brady. According to USA Today, his wife, supermodel Gisele Bündchen told her children that "you have to let someone else win sometimes" after the loss, but LOL because Gisele Bündchen's response to her Super Bowl comments show that she is annoyed AF and won't be taking crap from anyone.
Let's rewind: USA Today reported that, after the Patriots lost, Bündchen and Brady's two children — Benjamin and Vivian — and John, Brady's first son with actress Bridget Moynahan, were upset about the loss. They reported that Bündchen told her children that the Eagles "haven't won in a million years," adding, "Just this time. Daddy won five times. They've never won before."
It was also reported that Bündchen said, "Their whole life, they never won a Super Bowl. You have to let someone else win sometimes," adding, "Sometimes you have to let other people win. We have to share. Sharing is caring.''
For those who took the report as absolute truth, they were less than pleased over what Bündchen reportedly had to say about the whole thing:
But guess what, friends?
It's a little bit difficult to prove that she ever actually said any of this.
Plus, Bündchen herself took to Twitter to defend her words, letting everyone know that she's "tired of people twisting my words" and doesn't understand why people are creating drama where there doesn't have to be any:
Former New Kids on the Block singer Donnie Wahlberg quickly came to Bündchen's defense, saying that he ran into her and her children after the loss, and daughter Vivian was "smiling through her tears." In a sound clip, Wahlberg added what Vivian said to him after the game:
She said it's OK because we've won a bunch of times and the other team's never won and we should be happy for them.
Wahlberg also added, "Whatever Gisele said to the kids, they got the message right."
Bündchen saw Wahlberg's tweet in her defense and responded, thanking him for sticking up for her:
That's what friends are for, people.
In all honesty, it actually seems like Gisele Bündchen is being a pretty good sport about the whole loss. She posted to Instagram after the Super Bowl, with a caption that congratulated both teams and, of course, showing love to her husband:
Congratulations Eagles for winning the Super bowl, what a game that was! Congratulations Patriots for giving your best and to my love, we are incredibly proud of you because we are able to see every day all the commitment, sacrifice and hard work that you have devoted to become the best in what you do. We love you!
Losing the Super Bowl must be tough, so why don't we just give Gisele and Tom a few moments to regroup and recollect?
And, when asked about the loss and the future of his career as a quarterback in a post-game press conference, Brady said,
I give the Eagles a lot of credit. They played a great game, they had a great team, and those guys played really well... I expect to be back. It's 15 minutes after the game ended, so I would like to process this. I don't see why I wouldn't be back.
Let's all give the Bündchen/Brady family some alone time for a while, shall we?