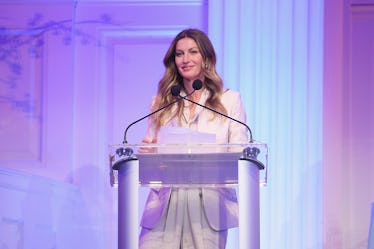 Gisele Bündchen Opened Up About Her Experiences With Panic Attacks In Her New Memoir
Dimitrios Kambouris/Getty Images Entertainment/Getty Images
It's easy to assume that someone like Gisele Bündchen has what you might call a "perfect" life. She's one of the highest paid supermodels on the planet, and she has what appears to be a totally lovely family with famous football player Tom Brady. So when Gisele Bündchen opened up about her experiences with panic attacks in her new memoir, the Brazilian model illustrated that you truly never know what people are experiencing internally, even if you see them acting a certain way in public all the time. Struggles with mental health can affect anyone, no matter how many magazine covers they've graced or fashion runways they've walked.
In a recent interview with PEOPLE, Bündchen opened up about her mental health, and about why she wanted to share these experiences in her new book, Lessons: My Path to a Meaningful Life. She told the magazine,
Things can be looking perfect on the outside, but you have no idea what's really going on. I felt like maybe it was time to share some of my vulnerabilities, and it made me realize, everything I've lived through, I would never change, because I think I am who I am because of those experiences.
As PEOPLE reports, Bündchen's modeling career exploded around 2000, when she'd secured a $25 million contract with Victoria's Secret. Around the same time, the magazine explains, she'd started dating Leonardo DiCaprio, a relationship that made her "a tabloid fixture," according to PEOPLE. Between her blossoming career and her relationship with an A-list celebrity, the sudden spotlight on Bündchen's life had essentially become too much for the model, and it was starting to trigger feelings of anxiety. Bündchen shared with PEOPLE that she experienced her first panic attack in 2003 "during a bumpy flight on a small plane," which soon led to a fear of enclosed spaces in general, like elevators, tunnels, etc. The 38-year-old model told the magazine,
I had a wonderful position in my career, I was very close to my family, and I always considered myself a positive person, so I was really beating myself up. Like, "Why should I be feeling this?" I felt like I wasn't allowed to feel bad. But I felt powerless. Your world becomes smaller and smaller, and you can't breathe, which is the worst feeling I've ever had.
Heartbreakingly, Bündchen went on to tell the outlet that, as her panic attacks grew more frequent and severe, she reportedly began to contemplate suicide. She told PEOPLE,
I actually had the feeling of, "If I just jump off my balcony, this is going to end, and I never have to worry about this feeling of my world closing in."
Bündchen added that she eventually sought help for her mental health. According to PEOPLE, she was initially prescribed medication by her doctor, but she chose to explore alternative treatment methods because "the thought of being dependent on something felt, in my mind, even worse." So, instead, the magazine reports, Bündchen chose to do a "a total lifestyle overhaul." She told PEOPLE,
I had been smoking cigarettes, drinking a bottle of wine and three mocha Frappucinos every day, and I gave up everything in one day. I thought, if this stuff is in any way the cause of this pain in my life, it's gotta go.
Bündchen is far from alone in her experiences with panic attacks and debilitating anxiety. According to the National Institute of Mental Health (NIMH), statistics show that about 19 percent of U.S. adults had an anxiety disorder in 2017, a number that is generally higher for women (about 23 percent, as per the NIMH) than it is for men (about 14 percent). Moreover, the institute says an estimated 31.1 percent of adults in the U.S. will "experience any anxiety disorder at some time in their lives."
And, if you've ever experienced panic attacks, then you know they can be disorienting, terrifying, and that they often feel as if they are coming out of nowhere. Symptoms of panic attacks, according to the Mayo Clinic, include a "sense of impending doom or danger," "fear of loss of control or death," "rapid, pounding heart rate," "sweating," "trembling or shaking," and "shortness of breath or tightness in your throat," among others.
If any of these symptoms seem familiar to you, know that there is help out there for what you're going through, and that it can get better with treatment and guidance. Importantly, while Bündchen chose not to take a medication prescribed to her by her doctor, it's crucial that you talk to a trusted medical professional about your mental health issues and let them decide what the best course of treatment is for you. If you need help finding treatment services in your area, the NIMH says you can call the Substance Abuse and Mental Health Services Administration (SAMHSA) Treatment Referral Helpline at 1-800-662-HELP (4357) to find a health care provider. Additionally, SAMHSA has an online Behavioral Health Treatment Locator to help you find what you're looking for.
If you or someone you know are experiencing suicidal thoughts, call 911, or call the National Suicide Prevention Hotline at 1-800-273-8255.