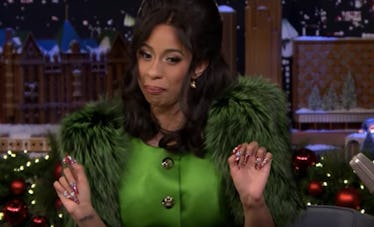 The Top 10 GIFs Of 2018 Will Give You Flashbacks To All Of Your Funniest Convos
I don't know about you, but a majority of the conversations I have with people utilize a ton of GIFs. Whether I'm talking to friends or catching up with my family, I usually throw a GIF (or five) into the conversation. Why? Because sometimes, it's easier to get your point across with a moving image than with actual words. Not to mention, it's quicker, too. If you're someone who's used countless amounts of GIFs throughout the past year (like me), then you might be curious about Giphy's Top 10 GIFs of 2018. Once you start scrolling through them, you'll probably get flashbacks to all of the hilarious conversations you've had within the past 12 months.
Let's take it from the top. In honor of the upcoming new year, Giphy recently posted its Year in Review for 2018, and the GIFs included in the website's roundups will make you feel so nostalgic. The company's Year in Review categories are as followed:
Top 10 Music GIFs of 2018
Top 10 Reaction GIFs of 2018
Top 10 Late Night TV GIFs of 2018
Top 10 Stickers of 2018
Top 10 Sports GIFs of 2018
Top 10 Movie GIFs of 2018
Top 10 TV GIFs of 2018
Reaction GIFs That Almost Made the Top 10 of 2018
Phew, OK. That's a lot of GIFs. One category that isn't mentioned above is the Top 10 GIFs of 2018, which summarizes the most-used GIFs of the year. If you're curious about which animations won, take a look at the list below. I'll start with the GIF that came in last place, and end with the ultimate winner.