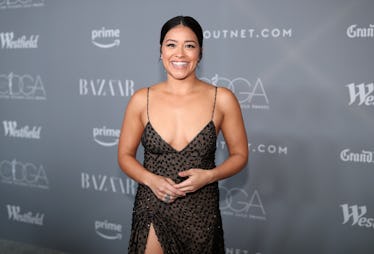 Gina Rodriguez's Essay To Help #EndPeriodPoverty Is Everything
Christopher Polk/Getty Images Entertainment/Getty Images
Even though I'm usually the type of person to plan ahead — I meal-prep on Sundays, and leave my gym clothes on the dresser the night before an early morning workout — there have been times when I was ill-prepared for my period. I've forgotten to restock my emergency tampon stash, and there have even been mornings when I've foolishly opted not to bring a pad to class or work, despite knowing my cycle was due any minute. But those were my own mishaps. Gina Rodriguez's essay on access to period products is a beautifully scripted article, published in Teen Vogue, that sheds light on the unfortunate truth that most girls who don't have feminine products at the ready at the onset of their period aren't being forgetful or careless; by absolutely no fault of their own, they genuinely lack the resources they need to properly care for their bodies.
Having access to feminine products is considered a privilege in America, but it should be a basic human right. In lending her voice to the cause, Rodriguez aims to raise awareness for this issue, in partnership with feminine products brand Always and the nonprofit Feeding America, by encouraging schools all over the country to provide their students with even the most basic feminine care products. That way, young girls won't have to miss class and, in turn, risk losing out on their education, sheerly because of something as natural as menstruation.
It's not easy to hear, nor is it easy to report, but according to Always' most recent Confidence & Puberty Survey, nearly one in every five American girls have either left school early or skipped school entirely because they didn't have access to basic feminine care products. If that doesn't make your heart ache, I don't know what will. Because listen, it's one thing to stay home from school because painful PMS symptoms like cramping and migraines are getting the better of you, but it's an entirely different story when your absence is the result of a lack of resources you should absolutely have access to, no matter where or when Mother Nature strikes.
In her Teen Vogue essay, Rodriguez hopes to open your eyes to the period poverty that's happening in your own backyard (as well as around the globe) by giving her full support to Always' #EndPeriodPoverty movement, which focuses on the significant lack of access to period products in the U.S. A press release on the initiative states that the feminine products brand has launched #EndPeriodPoverty with the help of the Jane The Virgin actress and nonprofit organization Feeding America to raise awareness and help schools stock up on products like tampons and pads. Here's how it will work: Always is going to donate 15 million period products to Feeding America for the 2018-2019 school year. The nonprofit will then distribute these products throughout its network of food banks in school pantry programs to make sure female students in need feel prepared and confident that their school supports both them and their health.
Rodriguez has been an outspoken advocate for young women's education throughout her career, so joining forces with Always and Feeding America on this campaign is a natural move for the actress. She explained in a statement,
I am passionate about empowering women and girls to feel confident and reach their fullest potential through their education, and it hurts my heart that there are so many young women who are not receiving a full education due to a lack of access to feminine hygiene products. I am very proud to partner with Always on their mission to help #EndPeriodPoverty and ensure these young women are not missing critical academic opportunities that are crucial to building a sustainable future.
Rodriguez's compassion is so vibrant, it's almost contagious, and if it makes you want to contribute to the cause, too, the actress has some ideas on some of the little ways you can make a huge impact. In her essay for Teen Vogue, Rodriguez wrote that education "is the most powerful tool many of us will ever have in this life," and that's exactly where you can start: Check in with your local food banks, schools, pantry programs, and health services to see how you can get involved, she explained. Moreover, you can contribute to the cause by purchasing and supporting Always feminine care products, as well as mentioning the #EndPeriodPoverty campaign on social media to spread the word and raise awareness.
Period poverty isn't just a female issue; it's a human rights issue. Learn more about how you can start making a difference right here, right now, at www.always.com/endperiodpoverty.