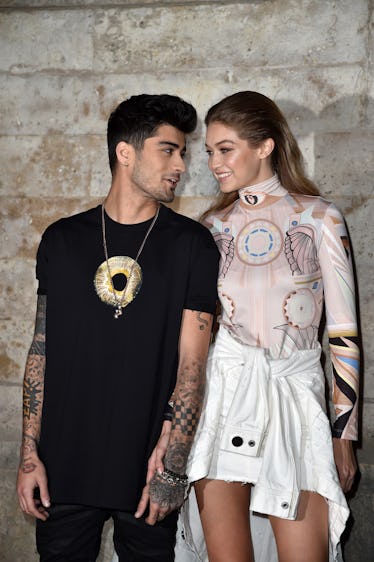 Gigi Hadid Showed Up To The Met Gala Missing One Major Accessory
Pascal Le Segretain/Getty Images Entertainment/Getty Images
The 2018 Met Gala is finally here and I am increasingly giddy with enthusiasm over what my favorite celebrities have decided to wear. One person that I'm unashamedly infatuated with this year is Gigi Hadid. Not that that's surprising or anything. After all, the supermodel is a bonafide fashionista, from her curve-hugging dresses and stunning cut-out, thigh-high gowns to her envy-worthy, midriff-baring two pieces. But wait until you get a peep of the photos of Gigi Hadid at the 2018 Met Gala — she's gonna blow your mind more than you ever thought she could.
On May 7, Hadid hit the steps of the Metropolitan Museum of Art in New York City donning a multicolored, one-shoulder Versace gown, which mimicked a stained glass window. For accessories, she went with gold bobby pins, crystal earrings and a simple clutch. In short, she looked absolutely angelic, and with the theme being "Heavenly Bodies: Fashion and the Catholic Imagination," it's safe to say she nailed it.
While we might have had an inkling or two that she was gonna slay the red carpet, I didn't expect anything as sizzling as this. On May 3, Hadid gave us a clue that she was going to wear a gown designed by Donatella Versace after posting a sweet birthday message to the fashion powerhouse on her Instagram. She wrote, "I am so grateful to have you in my life, thank you for everything :) Can't wait for our big date night Monday," Hadid topped off the post with a mysterious wink face, which brewed tons of speculation over what she was up to before the big event.
Can we also just take a second to, like, drool over how phenomenal Hadid looks after coming out of a long-term relationship just weeks ago? She dated former One Direction bandmate Zayn Malik for two and a half years, appearing alongside the singer in music videos and countless times on his social media pages (and vice versa), up until earlier this year. Based on how intense Malik's breakup statement was, you'd think this would be a hard time for her — but with this slay, it's pretty hard to tell. Back in March, Malik opened up about their breakup, saying:
Gigi and I had an incredibly meaningful, loving and fun relationship, and I have a huge amount of respect and adoration for Gigi as a woman and a friend. She has such an incredible soul. I'm grateful to all of our fans for respecting this difficult decision and our privacy at the time, we wish this news could have come from us first. We love you all. xZ
Does anyone have a tissue?
It's also incredibly moving to see her looking so amazing and happy because back in February, she had to clap back at critics who shamed her over her "frail" appearance. In a series of tweets posted to her Twitter page on Feb. 11, Hadid explained that she suffered from Hashimoto's disease — an autoimmune disorder that can result in fatigue or weight gain — and said she would "not further explain the way my body looks."
"Although stress & excessive travel can also affect the body, I have always eaten the same, my body just handles it differently now that my health is better," she continued. "I may be 'too skinny' for u, honestly this skinny isn't what I want to be, but I feel healthier internally and am still learning and growing with my body everyday, as everyone is."
She topped off the thread by saying she would no longer explain the way her body looks to suit "beauty expectation," and yasss, queen.
That's really great and all, Gigi, but I do need you to explain how you slayed this look so much. I'm available for chat via email or social media. Thanks, girl.