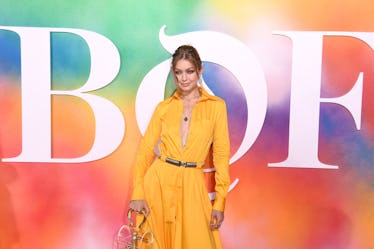 Gigi Hadid Carried A Completely See-Through Bag & What's Inside Will Make You LOL
Nicholas Hunt/Getty Images Entertainment/Getty Images
Gigi Hadid is a staple at New York Fashion Week, on the runway and off, at all of the biggest parties. At such recent event, the model brought with her an unusual accessory, but let me tell you, I'm here for it. Gigi Hadid carried a bag with rosé wine and nothing else and it was the most relatable thing ever.
On Sept. 9, Hadid attended the Business of Fashion 500 Party in New York City. This gala celebrates the 500 most influential individuals in the fashion industry each year. Alongside Hadid at the event were other models — including Bella Hadid, Lily Aldridge, Rosie Huntington-Whiteley, and Winnie Harlow — comedian Tiffany Haddish, musician Troye Sivan, designers Tory Burch, Tommy Hilfiger, Jason Wu, and a host of other fashion insiders.
Designer Brandon Maxwell was among those in attendance and he dressed Hadid for the event. The model wore a wide-leg yellow jumpsuit and carried a clear, lucite purse. Translucent apparel and accessories have been a big trend lately, and the fun part about a clear purse, is you can see what the wearer is carrying inside. Most people would stow the usual cargo – phone, wallet, keys, maybe some lip balm. Hadid, however, carried something a little more unusual inside her bag.
There's Hadid in all of her glory, (super) wide-leg yellow jumpsuit and all. The 23-year-old rocked her hair in a messy bun and layered some glitzy gold jewelry with her look. The pièce de résistance, though, was her bag. Actually, it was what was in her bag. Hadid carried a bottle of sparkling rosé wine in her see-through bag, and nothing else. I die.
Hadid showed off the clear Brandon Maxwell purse with a corresponding bottle of Brandon Maxwell sparkling rosé from every angle on the red carpet.
If you think Hadid only brought the wine as a red carpet prop, you'd be wrong. The model carried it throughout the night, and posed with it alongside other partygoers.
Here you have a Hadid-Haddish sandwich, and there's that wine!
Hadid also posed with her sister and the booze. I'm sad to report, though, it doesn't look like she ever cracked open the bottle. A lost opportunity, if you ask me.
Hadid's yellow jumpsuit was shown a day earlier, on Sept. 8, at Brandon Maxwell's Spring 2019 runway show. The look didn't come with the boozy accessory, so Hadid was smart to mix and match.
Here's one of the looks that went with the wine for the fashion show. Hadid's decision to switch up her look for the party proved to be a smart one, she looked radiant in the yellow jumpsuit and boozy bag.
Twitter was very supportive of Hadid's rosé satchel.
"I hope the fashion catches on because you never know when you may need a swig of rosé to get through the day," and literally same.
Mood AF. I just feel so seen.
I'd say this is a pretty achievable goal and I support going for it.
Hadid is everyone.
Fair point. #FreeTheRosé.
Fingers crossed this really is the new norm.