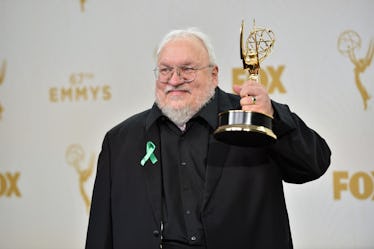 George R.R. Martin's Next Series Won't Be In Westeros, But You'll Still Want To Watch
Alberto E. Rodriguez/Getty Images Entertainment/Getty Images
There are only six more episodes left for Game of Thrones. Their truncated final eighth season will see the end of one of television's most culturally dominating series. But with this legendary show now passing into myth, channels everywhere are racing to find the show to replace it, aka "The Next Game of Thrones." From Amazon's Lord of the Rings series to Starz's American Gods to the no less than five prequels under construction at HBO, everyone is chasing this dragon. Now, the SyFy channel is signing up to bring us George R.R. Martin's Nightflyers, which may not have the cultural heft of some of these others, but has the all-important GRRM name attached.
Owned by NBC Universal, the rebranded Science Fiction channel tapped out of the genre at exactly the wrong time, giving up hard science fiction when BattleStar Galactica went off the air in 2009. They changed their logo from "SciFi" to the more bubbly "SyFy" and watched as a fantasy and science fiction television boom happened without them.
In the last two years, they've frantically rerouted, bringing aboard some great scripted shows, such as 12 Monkeys, The Magicians, and The Expanse, the last of which has been championed by Martin, as it is written and produced by his former assistant Ty Franck. Now they have Martin himself as well.
Martin talked about the process of Nightflyers getting picked up by NBC Universal, and landing at SyFy, which is great stuff for those of us who love to hear about the inside baseball of television producing. But for the rest of his fans, it was his meeting with the pilot script writer Jeff Buhler and showrunner Daniel Cerone that was of interest. Martin said,
NIGHTFLYERS was only a pilot script in May, but subsequently it has been picked up for a full ten-episode season order, with a substantial budget, one that should allow them to create a show that looks as good as modern audiences expect. They showed me drawings of some of the set designs, some very cool sets. They even showed me the NIGHTFLYER herself... If all goes according to schedule, the series should debut this summer, in late July. It will be broadcast on SyFy in the USA, and on Netflix around the world.
Here's the concept art he shared of "the Nightflyer herself":
So what is Nightflyers about? (And I hear you smarties in the back asking if it's finished.) The answer to the latter question is YES. And it's not nearly as long as A Song of Ice and Fire either. The original version was published in 1980, and was a novella included in an anthology series. It won so many awards, and drew so many fans, that Martin expanded it and republished it a couple of years later. You can find it in the collection Nightflyers (And Other Stories). Said collection also includes A Song for Lya, which is set in the same universe.
Here's the official synopsis:
Nine misfit academics on an expedition to find the volcryn, a mythic race of intersteller nomads, and the only ship available for this strange quest is the Nightflyer, a cybernetic wonder with a never-seen captain... Nine innocents are about to find themselves in deep space, trapped with an insane murderer who can go anywhere, do anything, and intends to kill them all.
This sounds a lot more horror that Game of Thrones. But if you think about it, Westeros is also filled with insane murderers who intend to kill everyone, and sometimes succeed. (Looking at you, Arya Stark.) So, there's a theme here.
The novella is part of the "Thousand Worlds" universe that tie many of Martin's shorter fare together, including the aforementioned A Song for Lya, as well as Dying of the Light, Sandkings, the short stories "The Way of Cross and Dragon", "With Morning Comes Mistfall" and all the short stories that comprise Tuf Voyaging. There's even theories that Planetos may be one of those "Thousand Worlds." So, you never know. There could be tiebacks to the Lannisters and Targaryens and Starks after all.