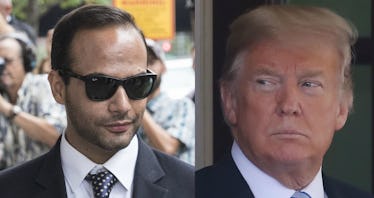 A Former Trump Adviser Claims He Lied To The FBI About Russian Contacts To Protect Trump
Alex Wroblewski/Getty Images News/Getty Images/Mark Wilson/Getty Images News/Getty Images
As FBI Special Counsel Robert Mueller continues the investigation into alleged Russian meddling in the 2016 presidential election, one of President Donald Trump's former advisers during the 2016 campaign is opening up about his interaction with the FBI. On Sunday, Sept. 9, George Papadopoulos sat down for an interview with host George Stephanopoulos on ABC's This Week. While talking on the show, viewers learned that George Papadopoulos' reason for lying to the FBI allegedly involves protecting President Trump. Elite Daily reached out to both the White House and the Office of the Special Counsel for comment on Papadopoulos' claims. The White House did not reply at the time of publication, and the Office of the Special Counsel declined to comment.
While talking about his Jan. 27, 2017 meeting with the FBI in which he lied about meeting with Joseph Mifsud — a UK professor with ties to Russian officials with dirt on Hillary Clinton, per Bloomberg — Papadopoulos told Stephanopoulos, per the official transcript of Sunday's show,
...I found myself pinned between the Department of Justice and the sitting president and having probing questions that I thought might incriminate the sitting president.
The This Week host then stated, referring to President Trump, "You were trying to protect the president."
"Of course," the former Trump adviser emphatically replied.
You'll recall that Papadopoulos was sentenced to 14 days in prison for pleading guilty to "lying to the FBI about his contacts with Russian intermediaries during the 2016 presidential race," per The New York Times. Papadopoulos joined the Trump campaign in March 2016 as a foreign policy campaign adviser, and that's when the then 29-year-old was reportedly approached by Mifsud with information about emails in Russia's possession that could be damaging Hillary Clinton's presidential campaign.
It was Mifsud's offer of dirt on Clinton that Papadopoulos withheld from FBI investigators in January 2017 (and later pleaded to guilty to lying about), and Stephanopoulos wanted to know why the former Trump campaign adviser didn't come clean to the FBI at the jump.
"I didn't understand really the nature of what was going on. Of course I'm remorseful, I'm contrite and I did lie but, you know, you're just taken off guard I guess in a such a momentous situation where you're potentially sitting there, incriminating the president, even though of course I don't think I did," Papadopoulos explained to the host on Sunday morning.
Speaking of why he claimed he was protecting President Trump, he continued, "You know, that was probably in the back of my mind, of what exactly am I doing here talking about Russian hacking or election interference with the candidate that I just worked for." Elite Daily reached out to the White House for comment on Papadopoulos' claims but did not hear back at the time of publication.
Claiming protection for President Trump as his reason for lying to the FBI in 2017 wasn't the former adviser's only bombshell during the Sunday morning interview. In response to Stephanopoulos asking if Papadopoulos believes that Mueller's investigative team will "demonstrate that there was collusion between the Trump campaign, between Trump advisers and the Russians," the 31-year-old interestingly hinted that his four meetings with the special counsel investigators might have helped Mueller's team.
He explained, "You know what, George, I have no idea. All I can say is that my testimony might have helped move something towards that, but I have no idea," per ABC News. Elite Daily reached out to the White House for comment on Papadopoulos' claims but did not hear back at the time of publication. Elite Daily also reached out the Office of the Special Counsel to confirm Papadopoulos' meetings regarding the Russia investigation, but the office declined to comment. President Trump has been adamant that there was no collusion in the 2016 election, and has repeatedly referred to the Mueller's investigation as a "rigged witch hunt."
When the news of Papadopoulos' plan to plead guilty to lying to FBI broke in October 2017, President Trump dismissed the former campaign adviser as a "low level volunteer ... who has already proven to be a liar," in an tweet sent on Oct. 31, 2017. In response to Papadopoulos' sentencing on Friday, Sept. 7, 2018, Trump said, "I see Papadopoulos today; I don't know Papadopoulos, I don't know. They got him, on I guess, on a couple of lies," per The New York Times.
Seeing as though the Office of the Special Counsel is well-trained in keeping developments of the Russia investigation under wraps, you'll have to wait and see when it comes to the veracity of Papadopoulos' latest claims.