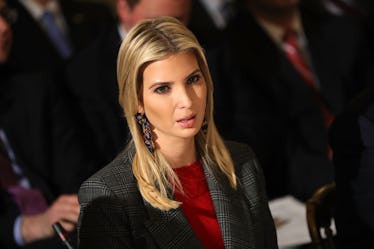 Ivanka Trump's Picture Is On The Cover Of A Punk Rock Album & IDK How To Feel
Chip Somodevilla/Getty Images News/Getty Images
It's hard to believe any of President Donald Trump's children had a punk phase — let alone Ivanka. But now, that punk phase seems to be making a comeback. Punk band Gang Of Four's Complicit album cover features Ivanka Trump, and yes this is apparently real.
Rolling Stone magazine described Gang of Four's sound as "dissonant, dub-reggae-influenced, atonal funk with political lyrics." Minus the reggae influence, I think you could safely say the same thing about Trump. She's lyrically and aesthetically political, but went through a real "punk phase," according to a memoir her mother, Ivana Trump, wrote that was published in 2017. That's only part of why it's eerily apt that the band's new EP will feature Trump's mug on it. The EP's title? Complicit.
The group was founded while its members were attending art school in Leeds, England in 1977, per Rolling Stone. Politics is in their name: Gang of Four refers to a Chinese Communist political faction associated with Mao Zedong's widow. In addition to their name, politics will now be on the cover of their latest release, due out on April 20.
There is also a track on the EP titled: "Ivanka (Things You Can't Have)." In a statement to Pitchfork about the song, one-fourth of Gang of Four, Andy Gill, said,
When we think of 'the media,' everyone has lots of ideas about what we mean. It could be social media, where hundreds of memes criss-cross the world; informing, misinforming, beginning or reinforcing ideas that may last a lifetime and beyond. Ideas about Jews, Muslims, or, say, the world trade centre or perhaps, the criminality of certain American politicians. And then there is the receding traditional media with disappearing jobs like 'journalists' and 'fact checkers.' That's the media the Trump family despise.
The punk band's first single from the EP, "Lucky," has already been released. The Complicit moniker, coupled with Trump's face, is a not-so-subtle reference to the clash between the president's daughter's seemingly-grounded perspective and some of his perceived bigoted policies.
CBS's Gayle King pressed Trump in an April 2017 interview to address criticism that she had been curiously silent on issues she and her father reportedly disagreed on.
"You say that you are your father's daughter, and we all get that," King said. "You also talk about the critics, and you have a couple that say, 'Why isn't Ivanka speaking out? Where is she on Planned Parenthood? Where is she on gay rights? Where is she on the rights of women? Where is she on climate change?'"
Trump replied, "I would say not to conflate lack of public denouncement with silence ... Where I disagree with my father, he knows it. And I express myself with total candor."
King persisted, though, asking Trump what she thought about reports that she and her husband, Jared Kushner, are "complicit" in what's happening in the White House.
Trump paused for a moment, before replying,
If being complicit is wanting to be a force for good and to make a positive impact, then I'm complicit. I don't know that the critics who may say that of me, if they found themselves in this very unique and unprecedented situation that I am now in, would do any differently than I'm doing. So I hope to make a positive impact. I don't know what it means to be — complicit — but — but, you know. I hope time will prove that I have done a good job, and much more importantly, that my father's administration is the success that I know it will be.
That exchange prompted parodies and Twitter users to sound off on Trump's apparent dodge. The use of "complicit" to describe Ivanka on Twitter also coincided with the release of her book, Women Who Work, in May 2017. Searches for "complicit" spiked 11,000 percent after Trump's CBS interview with King, according to Merriam-Webster. (It's defined as "helping to commit a crime or do wrong in some way.") "Complicit" was named 2017's word of the year by Dictionary.com in November 2017, according to USA Today.
Where does that leave Gang of Four? Well, they're either genius marketers, or musicians with a message. Or neither. The EP will be released in full on April 20.