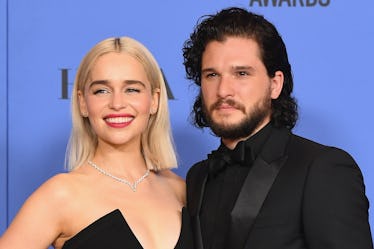 Emilia Clarke Opened Up About 'Game Of Thrones' Season 8 & We're Not Ready
Kevin Winter/Getty Images Entertainment/Getty Images
Game of Thrones only sent a small contingent of actors to represent them at the Golden Globes this year. With only a single nomination (and one they were pretty sure to lose, at that), the whole cast didn't need to be there. Other than Gwendoline Christie, Lena Headey, and Nikolaj Coster-Waldau, the most high-profile attendees were the presenters from the cast: Kit Harington and Emilia Clarke. The two spent all week making red carpet rounds, so perhaps it's not a surprise that by the end, Clarke was discussing the Game Of Thrones Season 8 script.
She didn't discuss spoilers. Both Clarke and Harington are far too professional for that at this point after nearly a decade on the show. Harington has already been pretty open about his reaction to the script, both in reading it and in filming, during his press run for Gunpowder on HBO and BBC. But this is the first time we've heard from Clarke about her reaction to reading the final six chapters of the story she's been a part of since 2010, and which made her career.
Access Hollywood tried their best to get Clarke to spill the beans on camera at the HBO party after the awards show was over, but she wasn't having it. Instead, she simply insisted that the long wait until 2019 will be rewarded.
Note that she starts out with the same talking point that everyone has used when asked about the final season, spitting out the HBO-approved buzzwords of "bittersweet" and "exciting." These are the same answers not only Harington has parroted, but Sophie Turner and Liam Cunningham have also given during their interviews.
Then, she turns to talking about how she responded when reading the script, and how the audiences at home simply aren't ready for what's coming.
Okay, so I read the scripts this season, and I, in some kind of a daze, walked out of my house. The only thing I took was my keys, and about three hours later I arrived back home, and I still hadn't taken it all in... I don't know if anyone's ready. I don't know if TVs are ready.
Well, TV technology has a year to catch up with what's coming, so hopefully there will be something at the Consumer Electronics Show over in Vegas right now that can help in that department. As for fans? None of us are going to be ready. We aren't going to be ready for what's coming, or for what's happening as it happens, and certainly no one is ready for the realization afterwards that, after nearly a decade, it's all over.
But that was the only detail that Clarke was willing to give us: The ending was such a shock, it took her hours to take it all in. Otherwise, she wasn't answering any questions. She wouldn't even answer when asked if she has scenes in Winterfell this season (which one would safely assume, since she and Jon Snow were heading that direction last we saw them). She responded in exasperation, "For heaven's sake!"
The Access Hollywood reporter tried to get into the weeds to see if Clarke could be tripped up, asking about some of the cliffhanger spoilers from the finale. The one he went for was the biggie, with Sam and Bran's reveal that Jon Snow is actually the legitimate son of Rhaegar and Lyanna, who were secretly (or perhaps not so secretly) married, and that his real name is Aegon Targaryen. And his claim to the Iron Throne outranks her.
But Clarke doesn't take the bait. She replies, "Yeah, what's up with that?"
What's up with that, indeed. We'll find out eventually, when Game of Thrones Season 8 arrives on HBO in 2019.