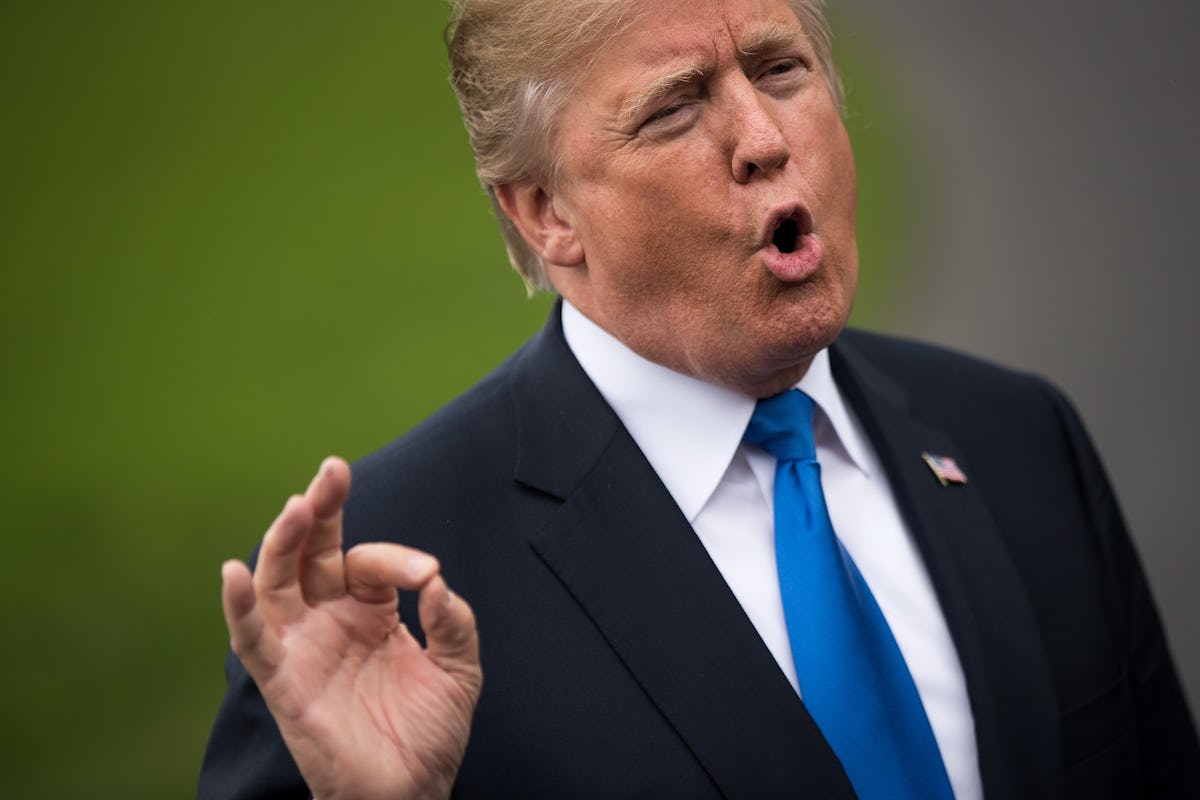 8 Funny Dumpster Fire Costume Ideas For Halloween
Drew Angerer/Getty Images News/Getty Images
2017 has been a rough, rough year — and it just seems to be getting worse. With Halloween quickly approaching, it'd be totally understandable if you wanted to dress up as something really cheerful like maybe one of the allegedly pregnant Kardashians or your favorite Game of Thrones character to combat all of those 2017 blues. But wouldn't it be the more fitting — and topical! — option to dress up in a dumpster fire Halloween costume?
Here's a few dress-up ideas that pay perfect tribute to the sh*tstorm that was 2017. And don't worry, your killer Khaleesi costume will be just as cool next year.
Ivanka Trump And Jared Kushner And Their Emails
Remember when it turned out that Ivanka Trump and Jared Kushner sent emails from a public server after Donald Trump won the election and it was both an lol and WTF moment? Dress up as the duo complete with emails taped to your very best A-line dress and/or buttoned up suit. Be prepared to hear a chorus of "but her emails!" and turn up your nose in oblivious, infuriating bliss. Also, if someone is willing, have a small fan being blown on you at all times a la Saturday Night Live.
Ivanka Trump Wig, $9, eBay | White Floral Dress, $24, Amazon
Donald Trump (In A Dumpster)
OK, so, regular ol' Donald Trump costume? Super unoriginal. BUT Donald Trump inside a trashcan? Now, that's a Halloween costume. If you want to get even more ambitious, print out one of his worst dumpster fire tweets and wear it around your neck.
Wig, $25, Amazon | Red Hat, $7, Amazon | Red Tie, $5, Amazon | Flag Pin, $4, Amazon | Wearable Trash Can, $36, Amazon
A Literal Dumpster Fire
Because that's what this is all about right? Don a wearable dumpster can and some fake flames and you're good to go. Ideally include your very best resting b*tch face as well.
Wearable Trash Can, $36, Amazon | Fake Flames, $5, Amazon
Sean Spicer (As A Bunny)
Why not give Sean Spicer a spin? You could tackle the former press secretary a couple of different ways. Like maybe, Sean Spicer reading to kids on Easter. Or Sean Spicer hiding behind bushes. Or Melissa McCarthy doing Sean Spicer, moving podium, water gun and one million packs of gum in tow. OR Sean Spicer as the Easter Bunny.
Easter Bunny costume — $44.49, Water gun — $4.99, Fake leaves — $14.99
Kellyanne Conway (On A Bad Day)
Sure, Kellyanne Conway might seem like an obvious choice... but what about Kellyanne Conway at her very worse?
Like frazzled, crumpled Kellyanne, complete with paper signs to spell out exactly what she's saying? Now, that's Halloween costume gold. Also, try to get a friend to play Anderson Cooper and perpetually roll his/her eyes at you all night.
Blonde Wig, $16, Amazon | Black Business Dress, $26, Amazon | Bizarre paper signs — priceless
Taylor Swift With Her Snake
OK, so Taylor Swift's music video "Look What You Made Me Do" isn't a dumpster fire... but her ongoing feud with Kim and Kanye certainly is. So, why not channel T.Swift's LWYMD look, complete with the red lipstick, snake paraphernalia, and so, so much shade?
Fake Snake, $7, Amazon | Red Dress, $20, Amazon | Snake Necklace, $8, Amazon
Zombie Taylor Swift
Alright, alright, sorry, I was really into the LWYMMD video. But can we all just agree that zombie Taylor Swift is kind of all of us right now after 2017? She's worn down, hurt, angry, and kind of a shell of her former self. Plus, the costume is just creepy enough to make it acceptable for Halloween, and you could probably get away with singing T.Swift songs to anyone who will listen.
Pennywise From It
If you really want to own the crapfest that was this year, why not dress up like the creepiest horror character from this year? The costume is definitely doable, you'll be really scary, and you're being topical without getting political. Win — win — win.
*Bonus* Beyoncé Making Her Pregnancy Announcement
Nope, not a dumpster fire moment in the slightest. In fact, this was a beautiful, lovely, magic-filled moment in the midst of all the dumpster fire-ness. If you don't feel down to be down about this year, then channel all that is good and true and Bey, and dress up as Beyoncé's pregnant Instagram announcement. It might be your one and only chance to publicly rock a fake pregnant belly and a bomb lingerie set so TAKE that opportunity and never look back.
Green Veil, $13, Amazon | Fake Belly, $22, Amazon | Brown Bra, $4, Amazon