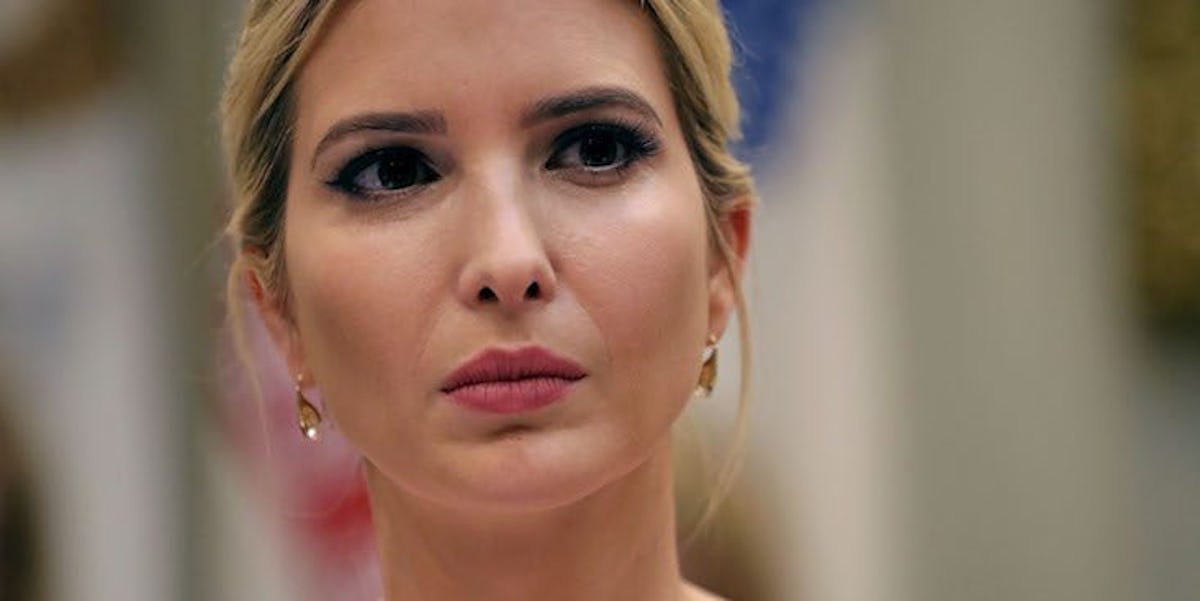 So, Ivanka Trump Sent Private Email For Government Work, And This Is What It Says
Chip Somodevilla / Getty Images
Remember when Donald Trump harped over and over again about the fact that Hillary Clinton used her private email server to send government emails? Well, I'd like to order up one piping hot cup of irony for the president. American Oversight, a government watchdog group, has revealed that Ivanka Tump used a private email account for government-related correspondence, so I guess it's time to bring back a hearty chorus of "lock her up"?
A set of emails released on Sept. 25 show that Trump emailed Linda McMahon, head of the Small Business Administration, in February, to ask about a possible collaboration. The first daughter wrote that she wanted to "explore opportunities" having to do with "women's entrepreneurship." Copied along with the email were two federal employees, Dina Powell and Julie Radford, both of whom were using government email addresses. In the email, Trump references Julie Radford, a government employee, as her chief of staff.
The email was sent on Feb. 28 and Trump didn't officially become a White House employee until March. However, she was still working in an unofficial capacity in government, and Newsweek points out, would most likely have already been given a government email address by February.
The email chain, though itself innocuous, does indeed call into question some serious double standards. Around the time that email was sent, Trump was already sitting in on government meetings, including one with Canadian Prime Minister Justin Trudeau. Surely she should have switched over to a government email address by then? You know, especially given the fact that her father ran a whole presidential campaign set to the tune of "her emails!"
So, that's pretty damning right there. But pair that with the fact that on Sept. 24 (literally one day ago), Politico reported that Trump's husband, Jared Kushner, had been using a private "family" email server to correspond with other White House officials, it's likely that Trump's email account was hosted on that server... and this could literally not get anymore maddening.
This is all literally exactly what Clinton was slammed for doing.
According to Politico, which saw about two dozen of the emails, Kushner reportedly sent messages discussing a range of subjects, including the media and event coverage. Some of those messages were sent to former Chief of Staff Reince Priebus and former Chief Strategist Steve Bannon. None of the emails seen by Politico dipped into classified territory.
Abbe Lowell, a lawyer for Kushner, gave a rather ambiguous explanation to Politico on Sept. 24. He said,
Mr. Kushner uses his White House email address to conduct White House business. Fewer than 100 emails from January through August were either sent to or returned by Mr. Kushner to colleagues in the White House from his personal email account. These usually forwarded news articles or political commentary and most often occurred when someone initiated the exchange by sending an email to his personal rather than his White House address.
Meanwhile, Austin Evers, the executive director of American Oversight, had another take on the whole situation. Namely, that this is all super unethical and the Trump family seems to always want to point fingers, but never take responsibility themselves. He said in a statement to Newsweek, 
Yet again we see that there's one rule for the Trump family and another for everyone else. It's simply breathtaking that both Ivanka and Jared Kushner would conduct government [work] on a personal email account after running a campaign centered on that very issue. The fact that they would brazenly ignore rules governing email use raises even more questions about their judgement and fitness to hold positions in the White House.
It does seem insane that Kushner and Trump would even use their personal emails for government business post-election, especially after all the hell Donald Trump raised about Clinton's emails during —and after — the presidential campaign. And while, yes, neither Kushner nor Trump were writing down classified information (as far as we know), they were still mishandling their accounts – something that, in the words, of our president, is a "very big deal."
There's also the issue that private accounts can be hacked. By using a non-government server, Kushner and Trump were leaving their correspondences pretty vulnerable. Even if they weren't sending classified information, continuing to use a private, unsecured server is just bad news all around.
As expected, Clinton supporters were having a field day with this whole email reveal on Twitter. Well, that, and they were also pretty pissed.
P.S. Clinton voters can now co-opt the phrase "crooked" in 3... 2... 1...