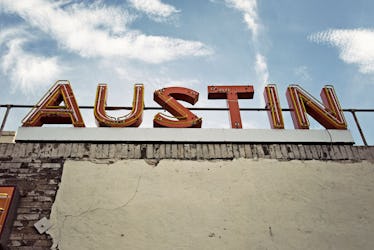 Frontier's Fall Sale Includes $39 Flights To Austin, So Time To Dig Out Your Cowboy Boots
I feel like most of adulthood has come as kind of a shock to me. Cheese is really, really expensive, and getting dental insurance might actually be a myth (right?). Anyway, I think the absolute worst part of it all is just knowing that I'll never have another free summer vacation... like, ever again. However, since taking a little time off at some point in the year is super important (because mental health is bae), one airline is selling some pretty sweet deals for fall flights that I absolutely need to get in on right this second. So, in case you haven't already checked it out, Frontier's fall sale includes $39 flights, and you should definitely book a few trips ASAP. I'm rooting for ya, my wanderlustin' babes.
I'm always looking for sweet (and hella inexpensive) flight deals, and since budget airline Frontier Airlines is having a major sale on domestic flights leaving between the months of August and October, I definitely want in. For real, hopping on one of these is mandatory, because some of these flights are as cheap as $39, like the ones leaving from Austin, Texas, going to Jacksonville, Florida. Oh, and deals on flights back are the same price, so cheers to getting on an equally-inexpensive flight back home.
If you're not in the mood to soak up the sun in Florida or dance the night away in Texas, there are also some very reasonably-priced flights for only $49 leaving from Denver, Colorado, to San Antonio, Texas, $54 flights from Raleigh, North Carolina, to Orlando, Florida, as well as a few $79 flights leaving from Tulsa, Oklahoma, to Washington D.C. Whether you want a taste of the beach, urban life, or the mountains, there's something for everyone. And no, this isn't a prank; it's real and I want each and every one of you to get in on it. You deserve a vacation right now, and you know it.
There are obviously more deals up there than the flights that I've listed above, so make sure to check out Frontier's online deals page for additional cities. You'll see so many different flights to a number of cool cities you probably never would have thought of visiting. It's kind of wild, and it's perfect for that spontaneous little vacation you didn't think you were going to be able to take this year. Also, make sure to check it out before it's too late, because seats are super limited. You'll want to book sooner rather than later, and now is definitely not the time for procrastinating.
Traveling is so, so important, and even though taking a vacation can be hard sometimes, it's incredibly necessary. Most of these flights are dirt cheap, and the best part is that they leave in a few months, which will give you more than enough time to request time off. Therefore, there's really no reason why you shouldn't book your ticket this fall. Whether you're in the mood to go hiking, explore a new city, or even take a short trip to the magical land of Disney World, there's literally an option for everybody. Bon voyage, and safe travels!