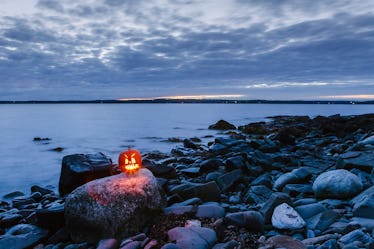 You Can Book A Last-Minute Halloween Trip To Myrtle Beach For $20 With Frontier
Halloween isn't only a time for pumpkin carving and costume parties. It's also great time to travel and see how other cities celebrate the spooky holiday. Thankfully, Frontier Airlines' October sale has $20 flights around Halloween 2018, so you can book a last-minute autumn trip at a super low cost. The affordable airline has a vast selection of U.S. destinations that travelers can visit at the end of the month — so pack your bags and get your costume ready.
If you take advantage of Frontier Airlines' October flight sale, you'll be able to spend Halloween (or the days surrounding Oct. 31) exploring a new city. However, you need to think fast — because the flight sale ends on Wednesday, Oct. 17. Yes, that means you have less than 24 hours to plan your Halloween getaway — so call your friends and start planning. Heck, for $20, trick or "treat" yourself to a solo trip and visit a city you've been wanting to see.
Thanks to Frontier's destination options, you have plenty of trips to choose from. In order to find $20 one-way flights, head to Frontier's October flight sale page and start browsing. Just keep in mind that there are also $29 flight options when you scroll further down the page. When you find a trip that seems appealing to you, hit "BOOK NOW" and select your travel dates. The $20 and $29 ticket options will appear if they're available on the days you've selected.
If you've already scoped out a few options, you probably noticed that most flight sales are valid between Oct. 23 and Dec. 18. That means you don't technically need to embark on a Halloween getaway. If you'd rather buy tickets for your Thanksgiving flight home, go for it. However, a Halloween trip sounds like fun to me.
If you agree, you can take advantage of various $20 one-way flight sales that'll let you travel on the dates surrounding Halloween. Plus, since Halloween is on a Wednesday this year, you have two "Halloweekends" to celebrate (you're welcome). Some departing cities with $20 flight sales around the holiday include Albuquerque, New Mexico; Austin, Texas; Birmingham, Alabama; Denver, Colorado; Las Vegas, Nevada, and so many more. Find the closest city to you and set flight in time for the spooky celebrations.
One trip that stood out to me is the $20 flight from New York, New York (ISP) to Myrtle Beach, South Carolina (MYR). This flight takes off on Oct. 30, so you can arrive at your destination just in time for Halloween. If you end up traveling to Myrtle Beach for the holiday, there are a ton of spooky things to do. Some activities include Boardwalk Fright Nights, Ripley's Haunted Adventure, and the extra creepy Zombie Zone.
Before you book your ultimate autumn getaway, though, there is one thing you should know. According to Frontier, blackout dates for the sale include Nov. 16 to Nov. 26 — so if you are hoping to make the trek home for a Thanksgiving celebration, keep that time frame in mind.
If you still want to celebrate Halloween in another town, keep looking for scary-good flights out of your city.