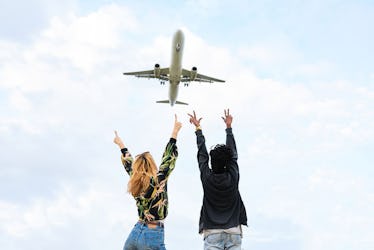 You Can Fly Frontier Airlines With $15 Flights, So Book That Last-Minute Vacay
If you haven't taken a summer vacation yet, your time is running out. Luckily, you can still get away on the cheap thanks to a ridiculously wallet-friendly flight sale from Frontier Airlines. The flight sales are valid for summer and fall travel. Call your bestie to start planning a last-minute getaway, because with prices this low, you need to act fast. Frontier Airlines' 2018 summer flight sale has $15 flights, so pack your bags.
Frontier Airlines is offering the deal of a lifetime with $15 one-way flights to many destinations across the country. If you are pining for one last summer adventure, you'll have to book your flight before the sale ends on Wednesday, Aug. 1. If you live in Atlanta, you can scoot on down to Orlando with a $15 one-way flight. Orlando may be known for Mickey Mouse, but there are also beautiful beaches within an hour or two of the Disney hotspot. If you live in Albuquerque, New Mexico, you can have your pick of $15 one-way flight destinations including Austin, San Antonio, and Denver.
Chicagoans can get one last soak of the Montauk sun with $15 flights from the Windy City to Long Island. If you reside in the Golden State, you fly from San Jose to Las Vegas for the low cost of $15. The number of affordable flights from the Frontier Airlines sale goes on and on, so make sure to check out what's available at an airport near you.
As with any good deal, there are a few stipulations. One of the most important rules to follow when booking your next flight is to make sure it falls within the designated travel window. The $15 flights must be used between Tuesday, Aug. 14 and Wednesday, Oct. 3, according to Frontier Airlines.
Depending on where you live, you can fly out of your local airport for close to nothing. Keep in mind that Frontier Airlines is a budget carrier, so you will have to pay for your checked luggage, overhead bin space for your bags, and to pick your own seat, according to Frontier Airlines. Those costs can add up quickly. To keep the extra prices at bay, you can forgo selecting a seat. If you are a minimalist packer (I'm jealous), you may be able to get away with putting all of your belongings in a backpack. Frontier Airlines gives customers one free personal item. As long as your backpack fits under the seat, you're good to go.
Additionally, prices range anywhere from $15 to $114 for a one-way flight on Frontier Airlines. This deal is only valid on nonstop flights within the United States on Mondays through Wednesday. You must buy your flight seven days prior to travel. Due to the Labor Day holiday, these cheap fares are not valid on Monday, Sept. 3, according to Frontier Airlines.
There isn't a whole lot you can do for under $20 these days. Sure, you can see a movie and buy a cheap t-shirt. But even grabbing lunch with friends is hard to do for under $20 by the time you factor in your meal, drink, and a tip for your server. Currently, the average cost of a gallon of gas is $2.89 in the United States, according to the AAA website. If you have a small car, your gas tank probably holds 12 gallons of gas. Some quick math tells me that you would spend $34.68 filling up your tank. For all of that money, you could treat yourself to a $30 roundtrip flight on Frontier Airlines. So, what are you waiting for? Book that last-minute vaca, and treat yo' self!