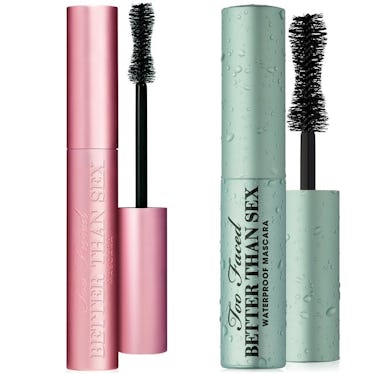 Here's How To Score Free Too Faced Better Than Sex Mascara Before It's Too Late
Tuesdays are typically pretty uneventful. Every now and then, I'll opt for the occasional dollar taco night, but other than that, they tend to be the most chilled out day of the week. This Tuesday, however, is a little different, because customers can score free Too Faced mascara and makeup-removing cleansing oil, which, if you're a fan of the beauty brand, is a big deal. Did this just become my favorite day of the week?
Too Faced has long been one of my favorite brands for its playful approach to beauty, both in terms of products themselves and packaging. They offer shadow palettes with an array of super bold, bright hues, as well as makeup bags covered in adorable little cartoons. I am obsessed with kawaii culture (which is quite literally the culture of cuteness, in Japan), so anything that comes in packaging that makes me say "awww" is something I want in my beauty closet.
More importantly (to most people), Too Faced's products are also known for their quality. From their Hangover Primer ($32, Too Faced), which "hydrates, smooths and brightens skin for a dewy, healthy looking finish," to their Cocoa Powder Foundation ($34, Too Faced), which is "an antioxidant-rich, oil-absorbing, non-drying powder foundation that leaves a rose-petal finish," Too Faced's offerings are top notch. And their most-loved product, their Better Than Sex Mascara, is on a level of its own, which is why the fact that it's currently being given away as part of a great deal online is something to get majorly excited over.
Currently, when you make a purchase of $55 or more on Too Faced's website, you'll automatically be gifted with "the ultimate mascara & remover kit," according to HYPEBAE. This includes both the Better Than Sex Mascara and the brand's Mascara Melt Off cleansing oil, aka the ultimate beauty power duo.
The Better Than Sex Mascara, which usually retails for $23, is the secret to the most amazing lashes of your life. I've been wearing it for some time, so take it from someone who knows: It thickens, lengthens, and curls without making your lashes look clumpy or like weird spider legs, and it has a pliable, comfortable texture that won't make your eyelids feel like they've been trapped in a straightjacket. Even more, it's incredibly smear-proof and yes, comes in a cute, blush-pink, metallic tube — what's not to love? According to Too Faced, it's the "#1-selling prestige mascara" in America, so you know it's good.
The Mascara Melt Off, which will typically run you $17, is another stellar product. It's a conditioning, oil-based formula that helps remove mascara — both regular and waterproof! — and it comes in tube-form, much like mascara. You use its combed wand to rake the oil through your lashes before rubbing off the "melted" mascara. It contains antioxidant-rich green tea extract, which helps protect lashes, and is the ultimate complement to Better Than Sex.
Basically, getting these two products, which would typically cost you $40, for free is one helluva deal, at least in my book. I can't tell you how often I struggle to get every trace of my mascara off at night. This would save me major time and frustration. Too Faced is also completely cruelty-free and many of their products are vegan, so they're a good brand to support overall. Why not splurge on a few new beauty products and get two for free? I promise, your spring makeup look — goddess lashes included — will thank you. It's important to note that no details have been released in regard to how long this offer will last, so get to clicking and cart-filling ASAP.